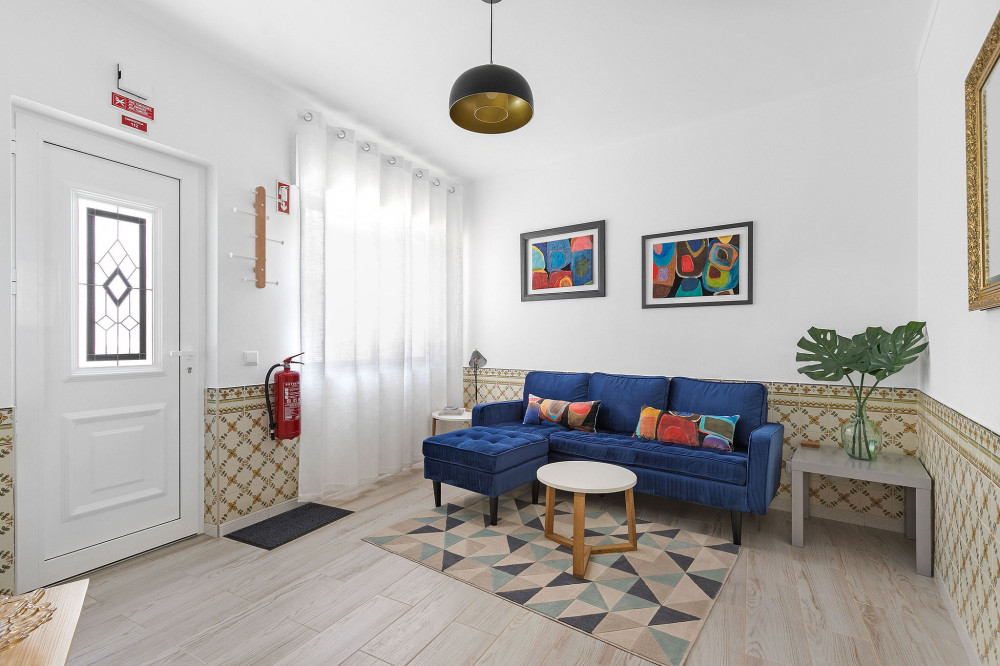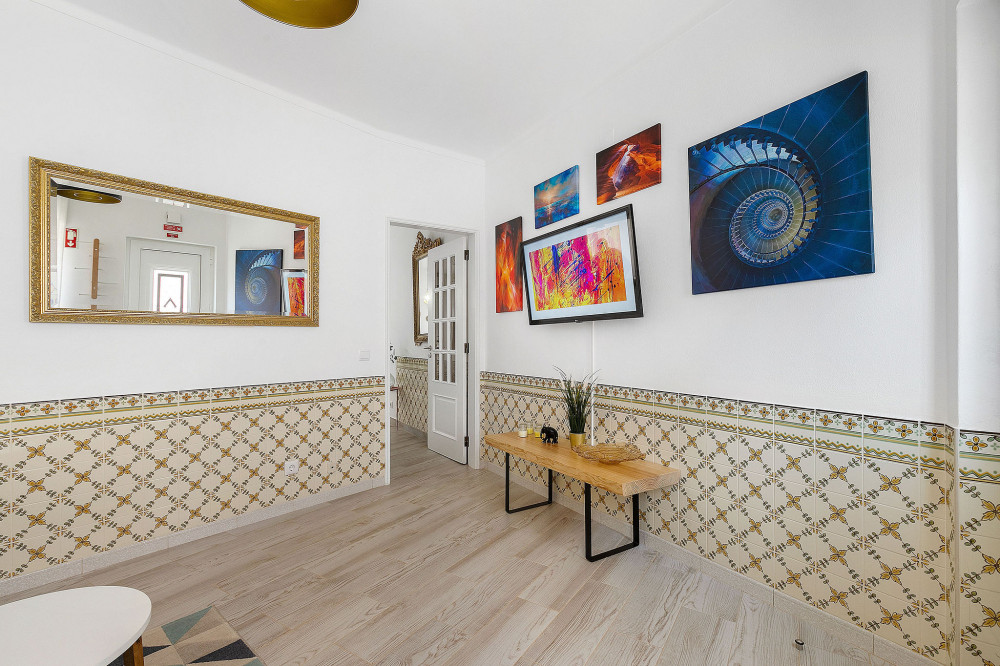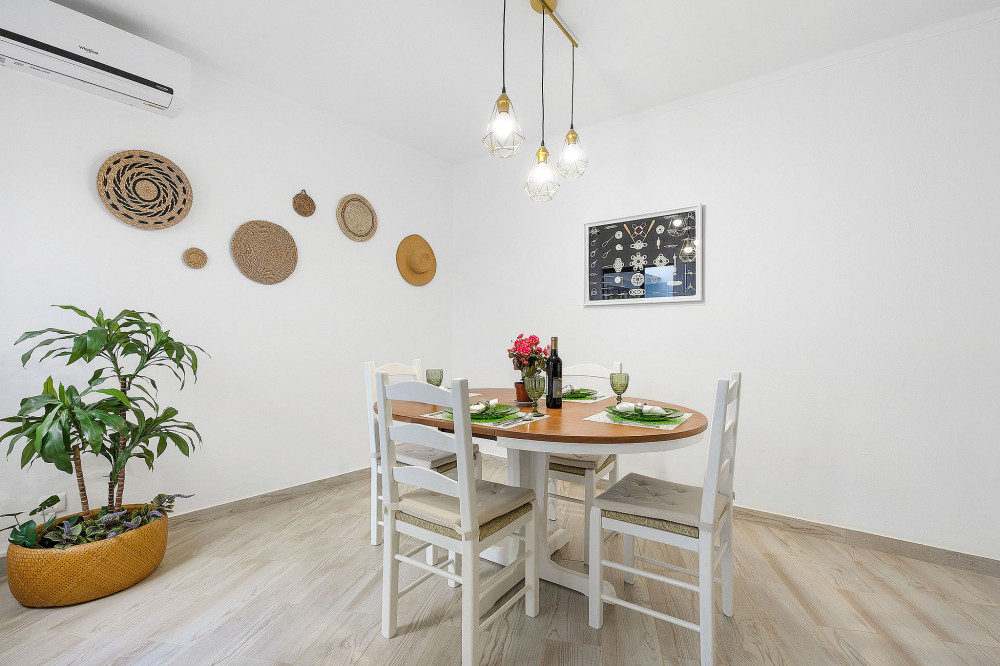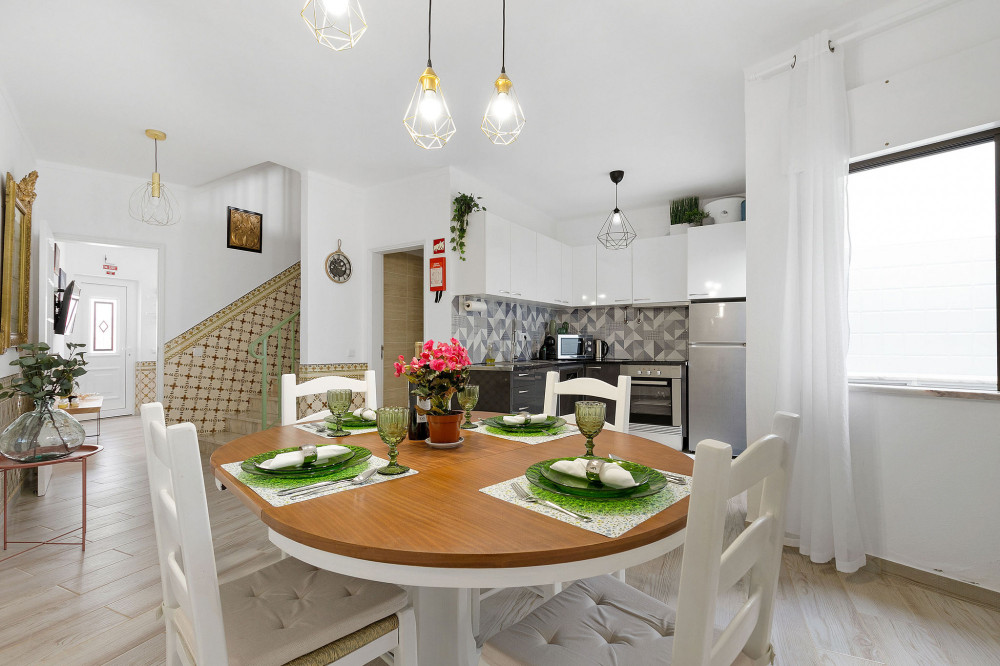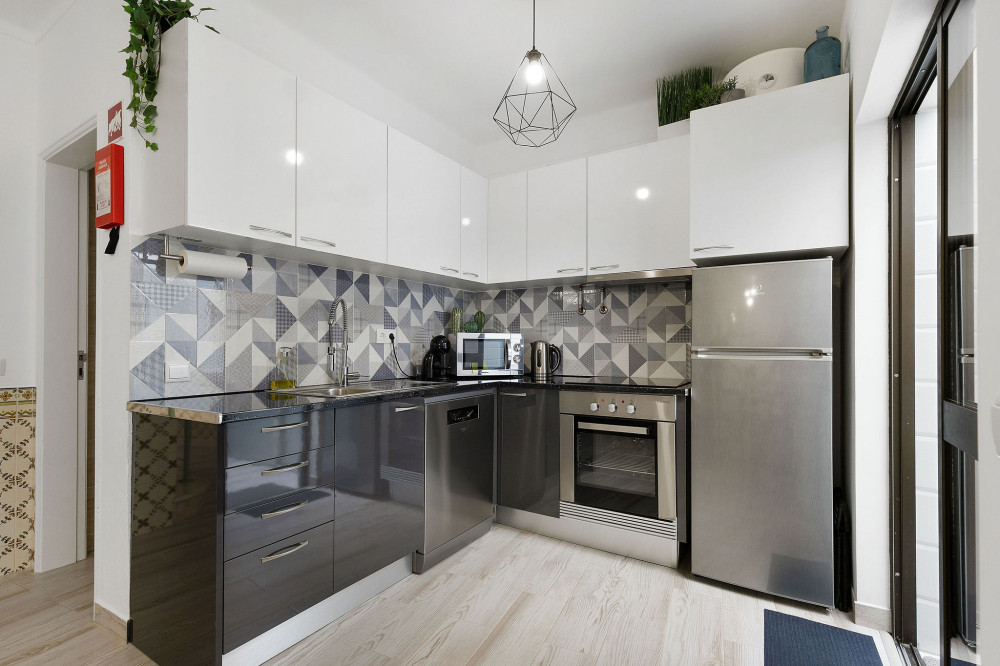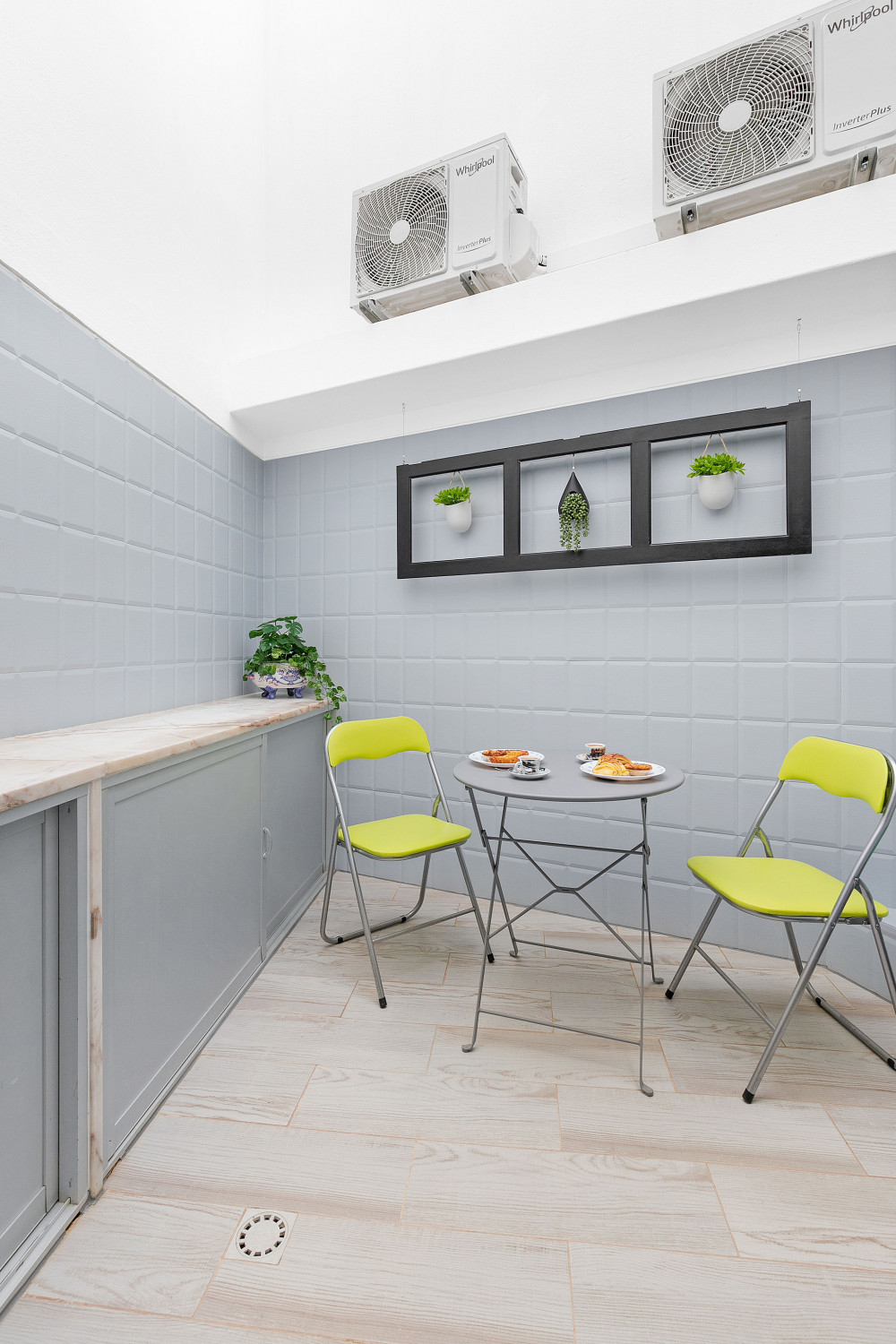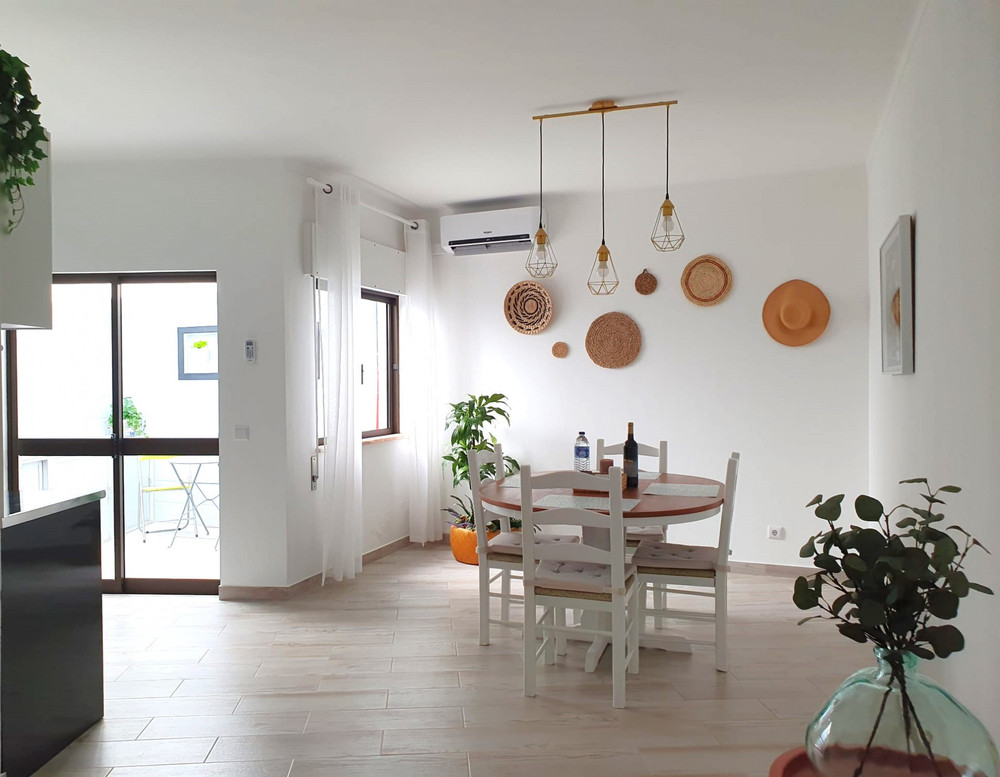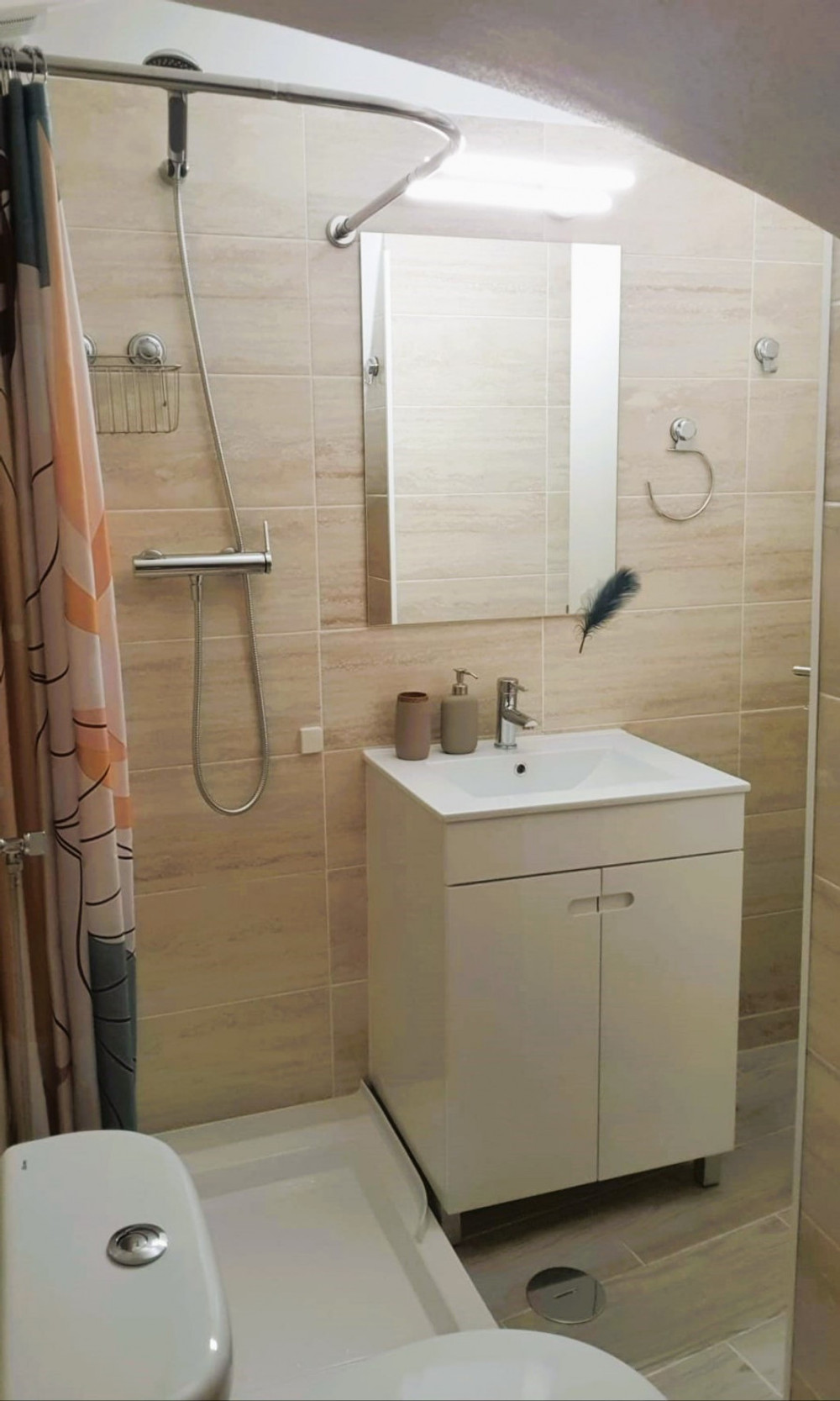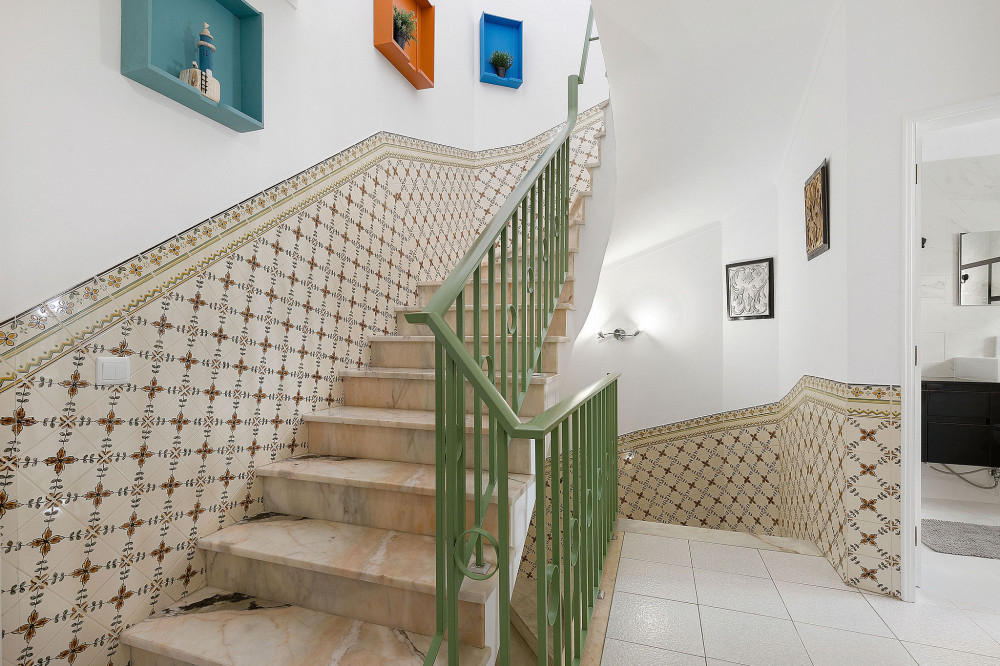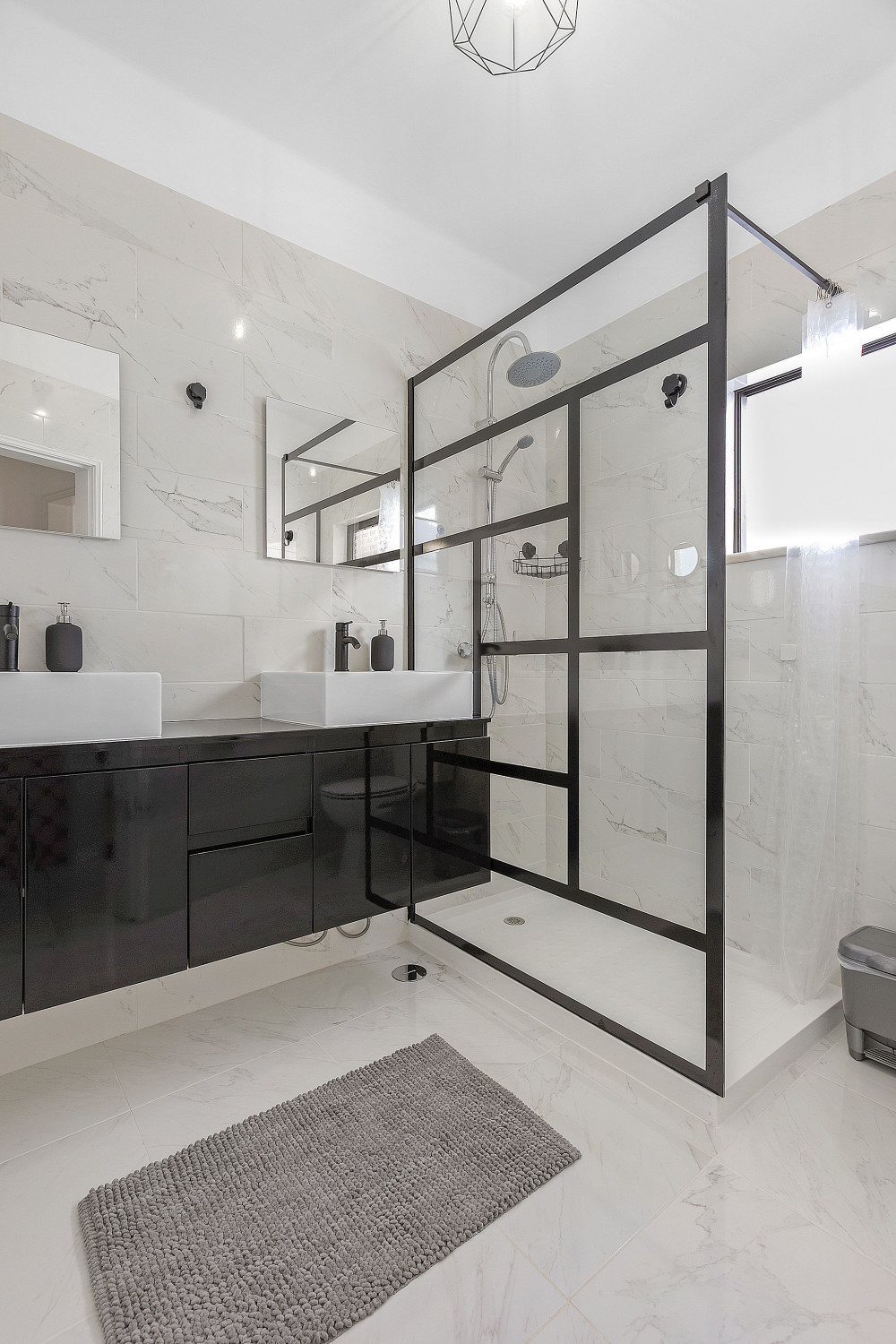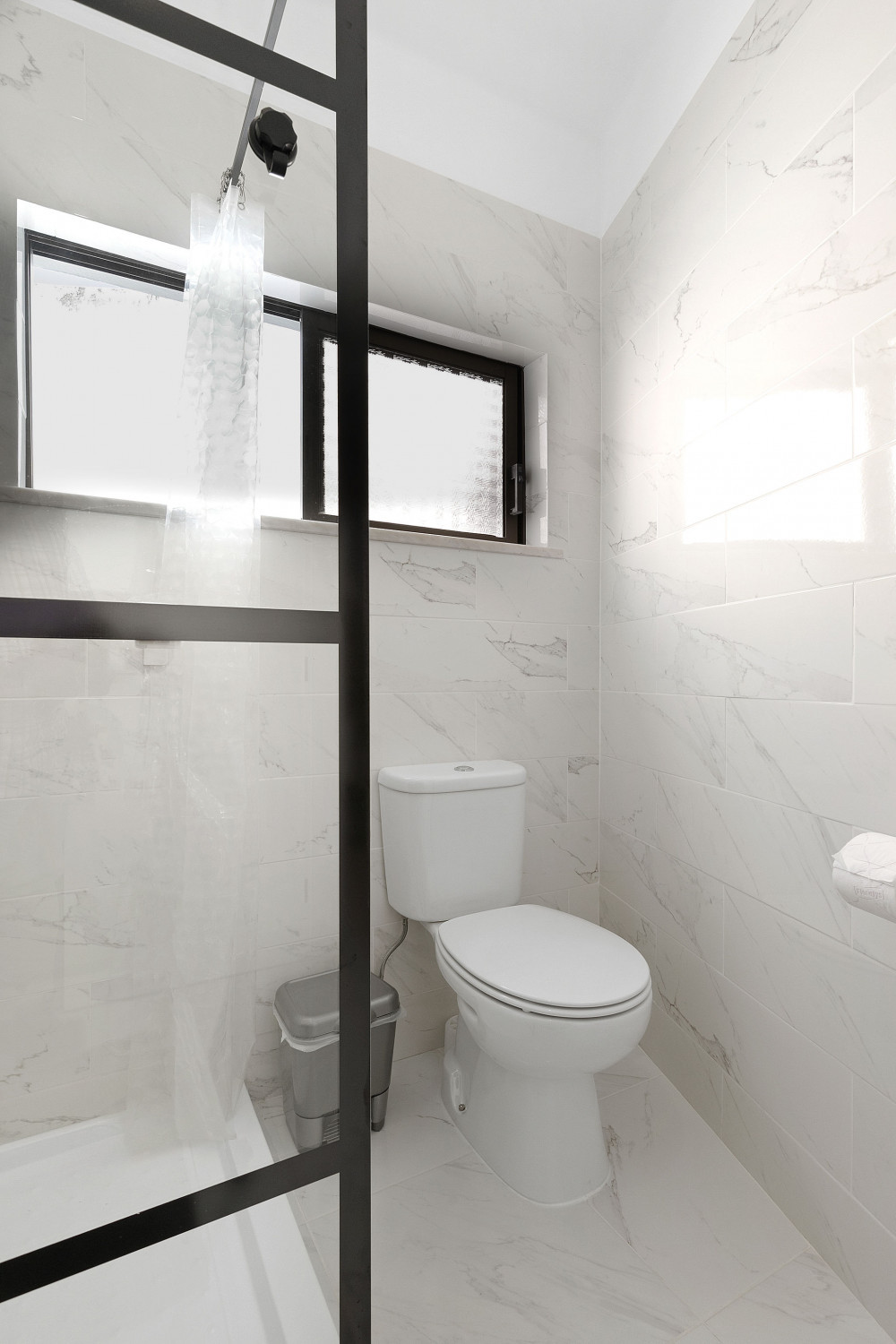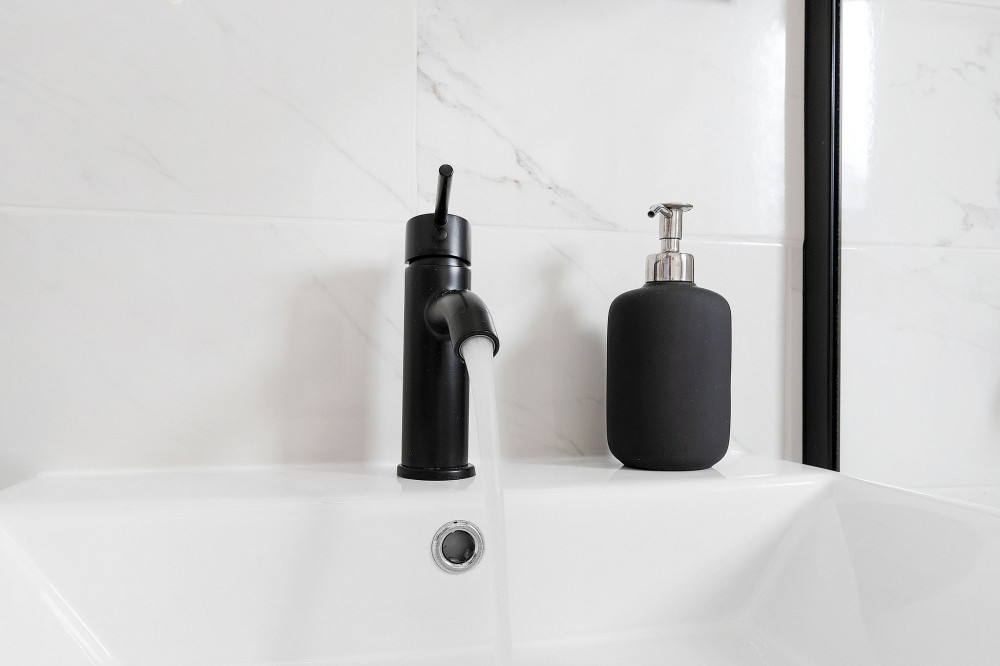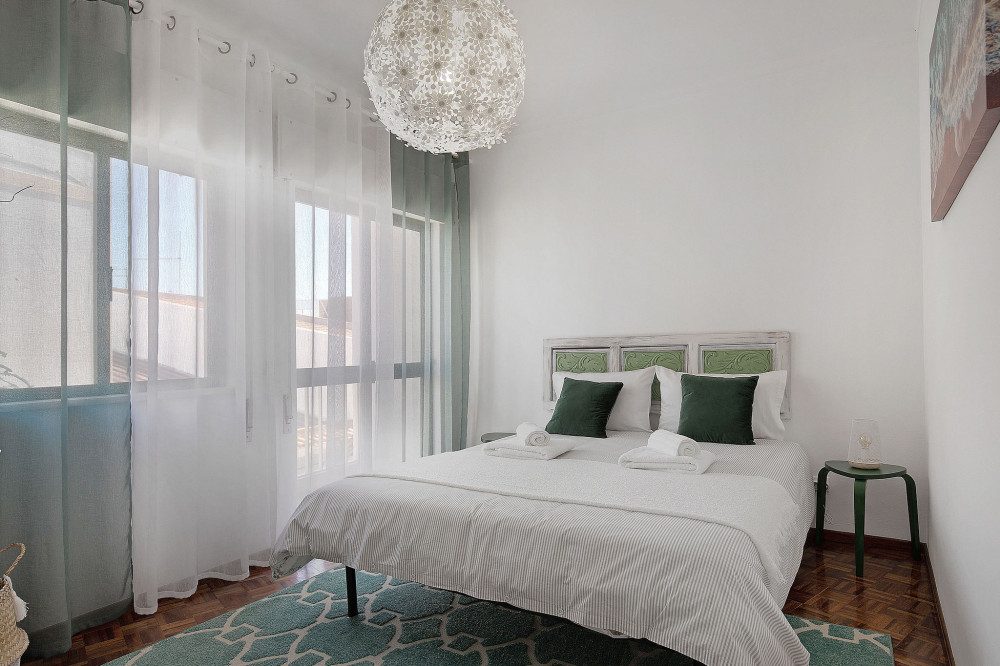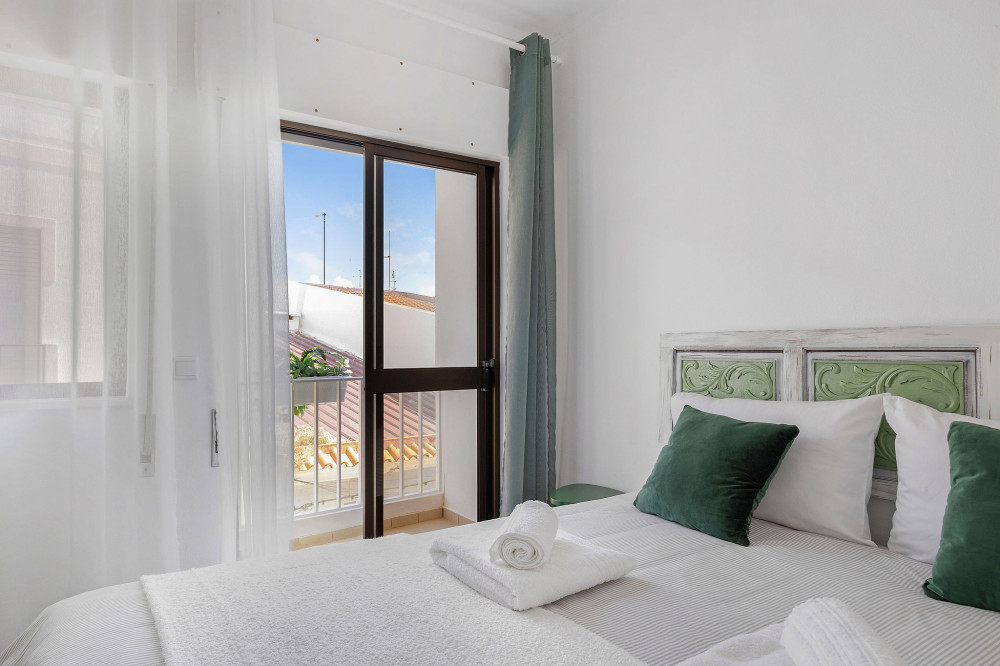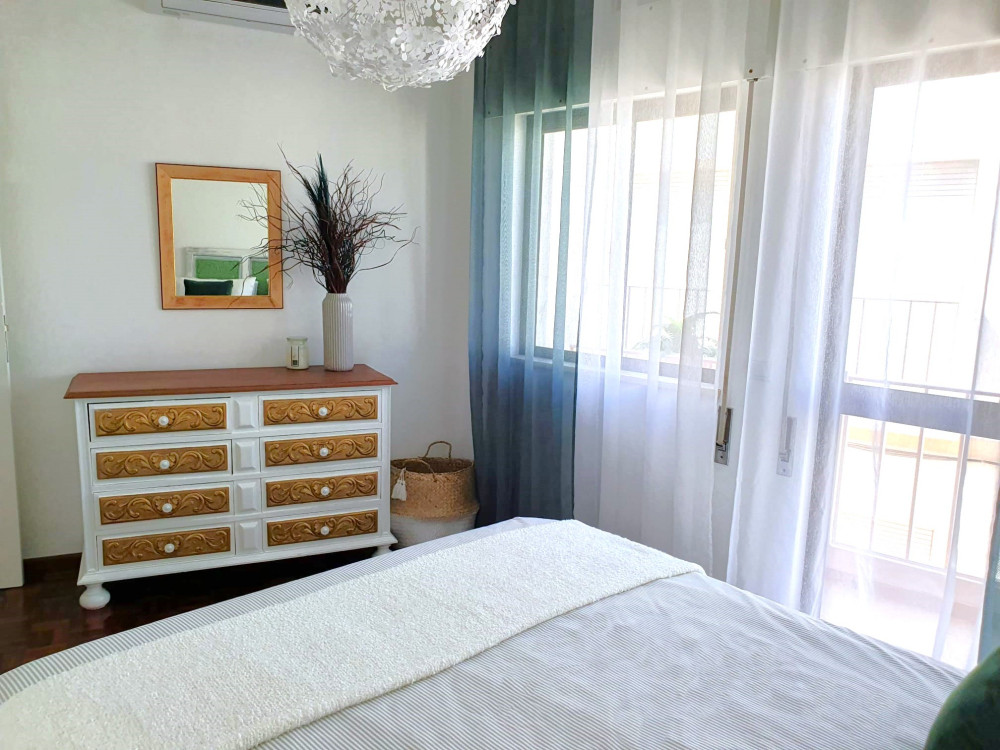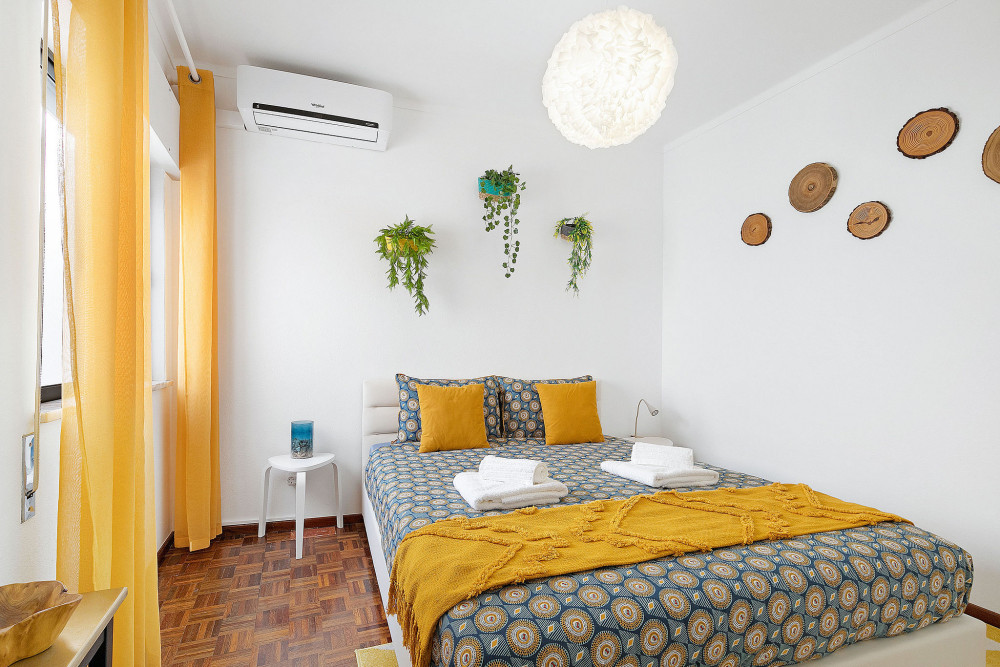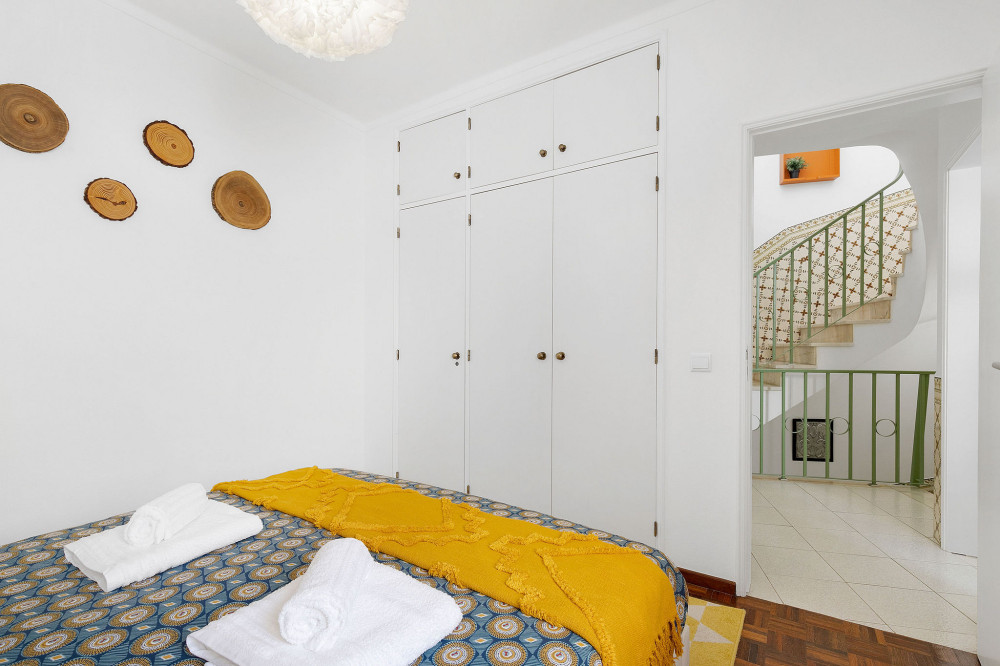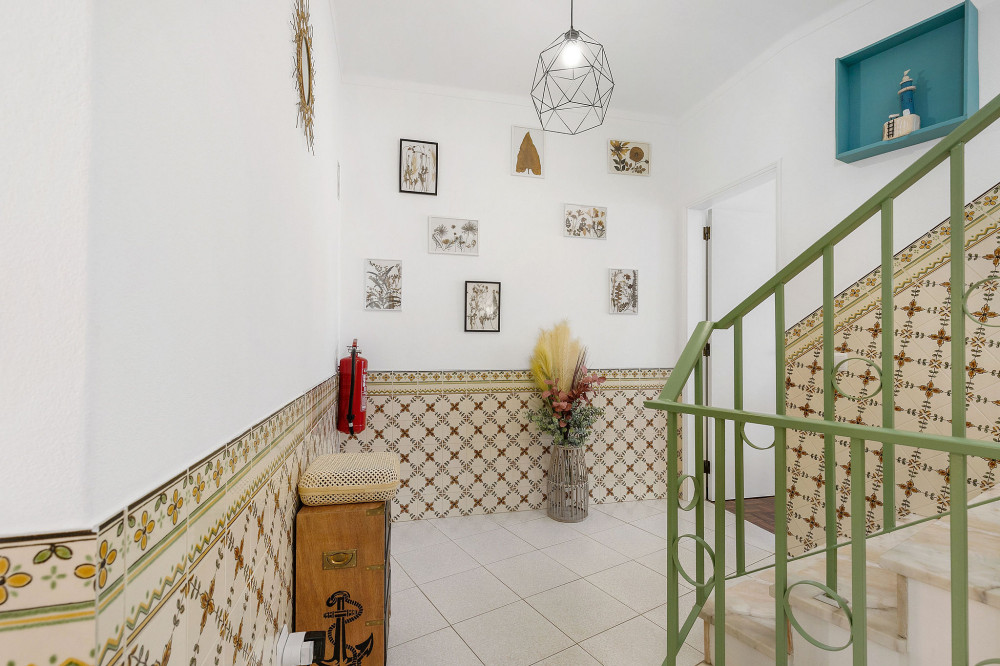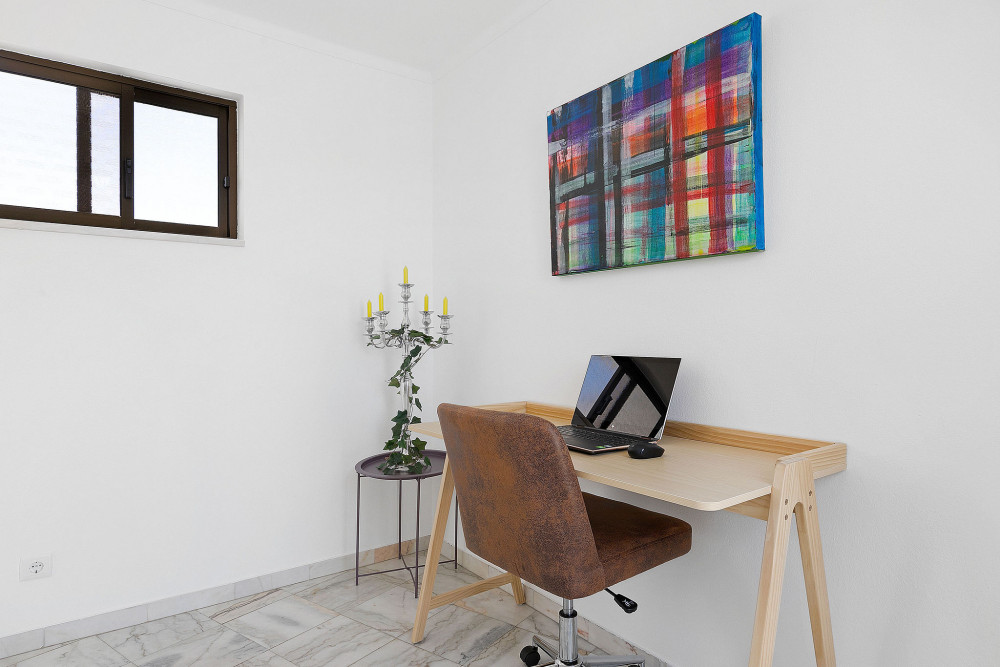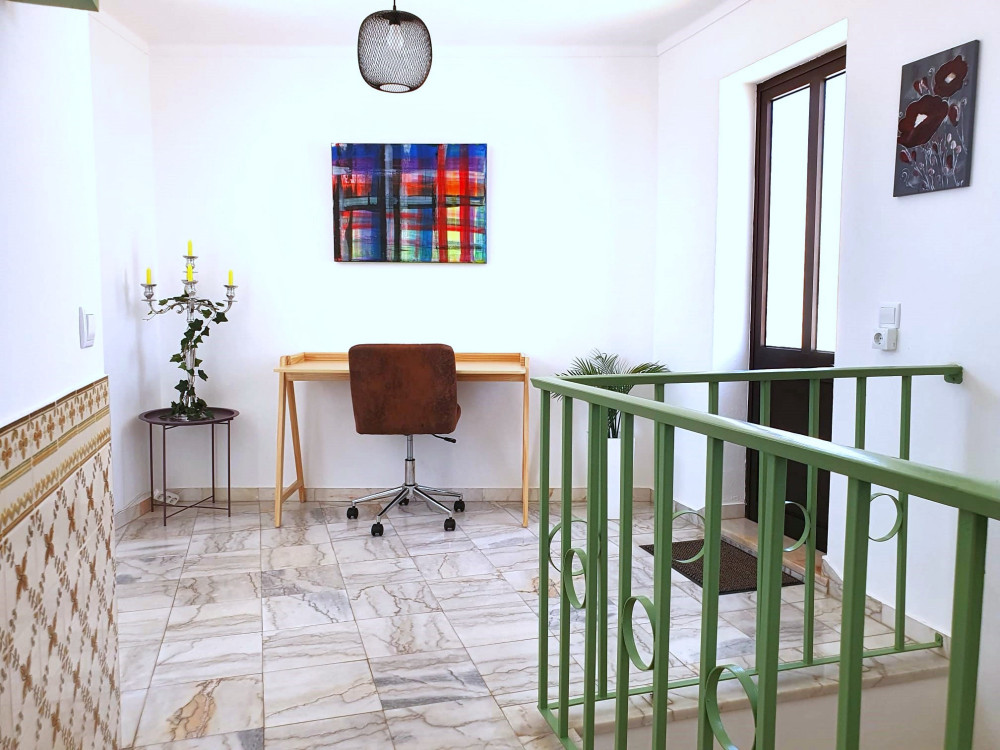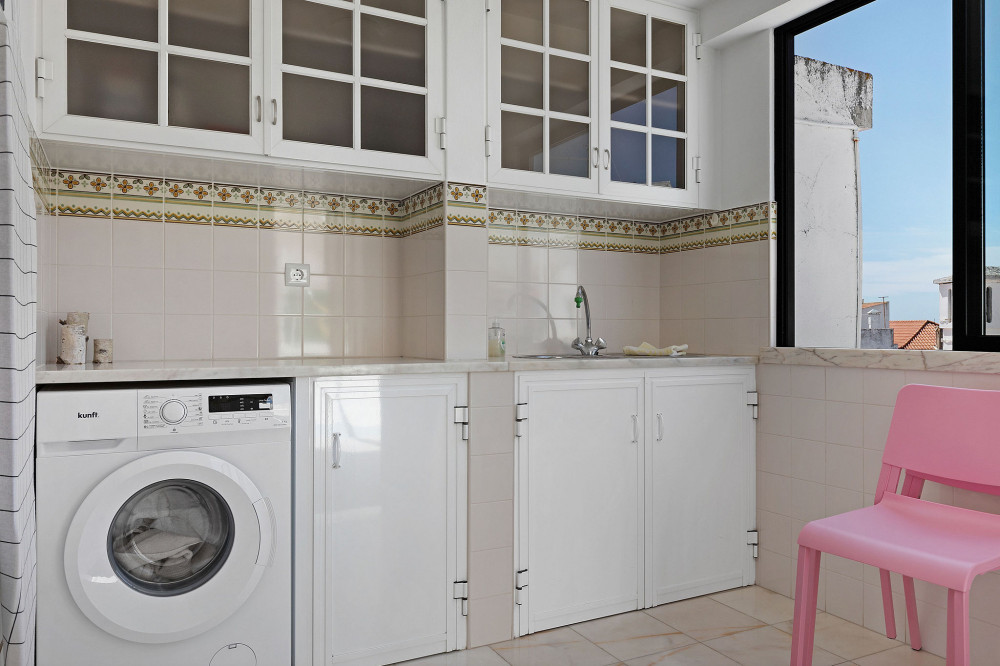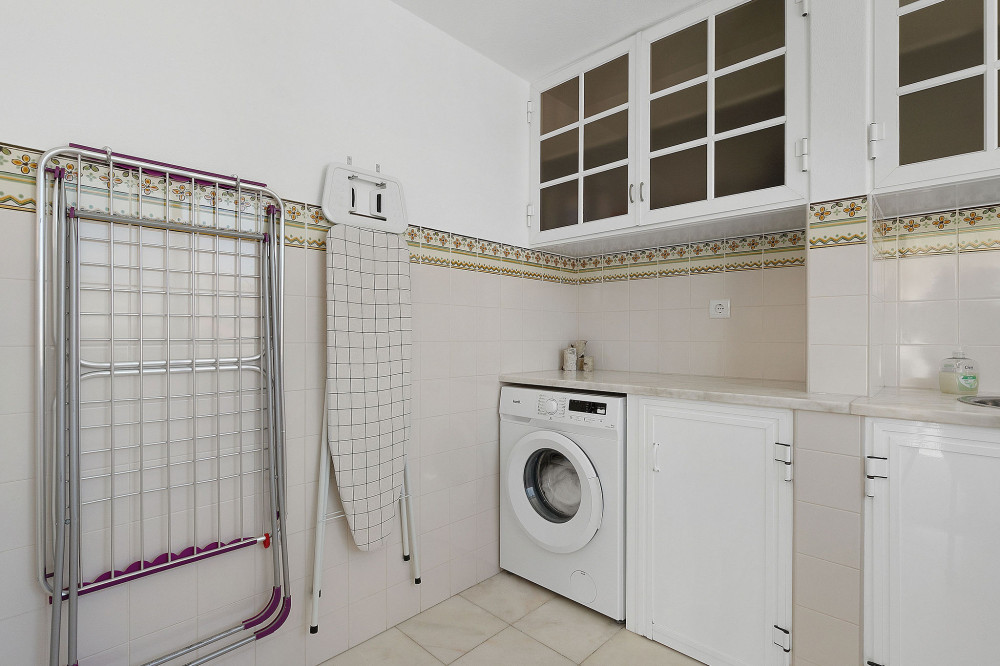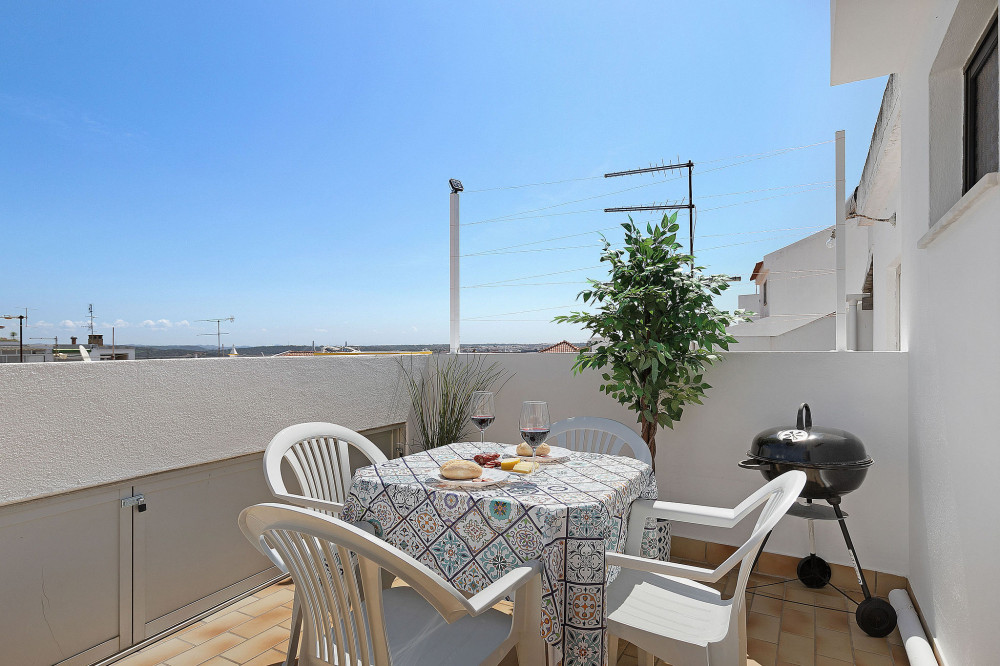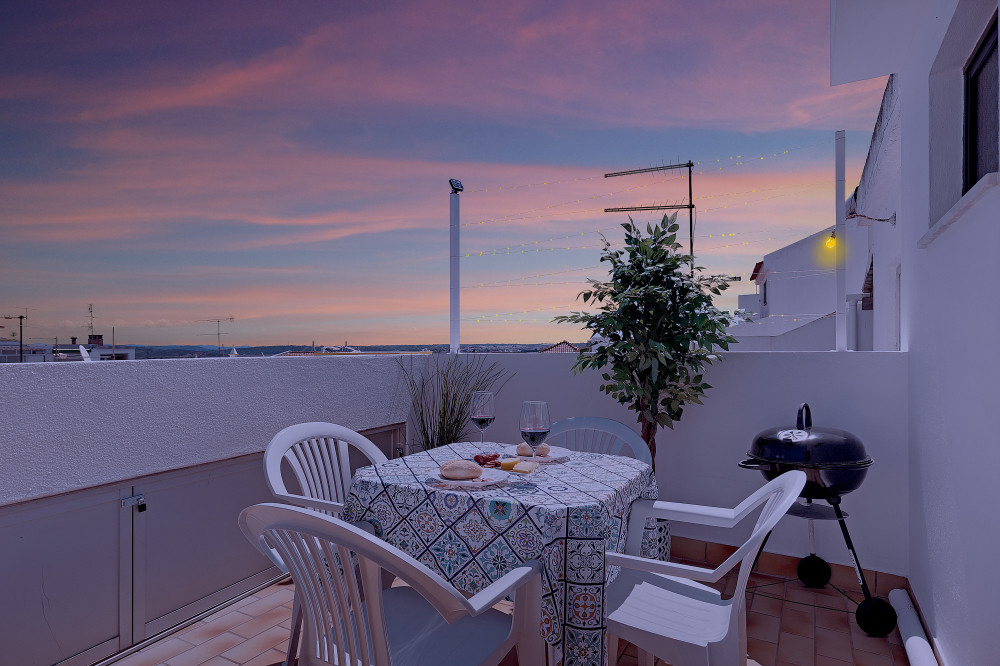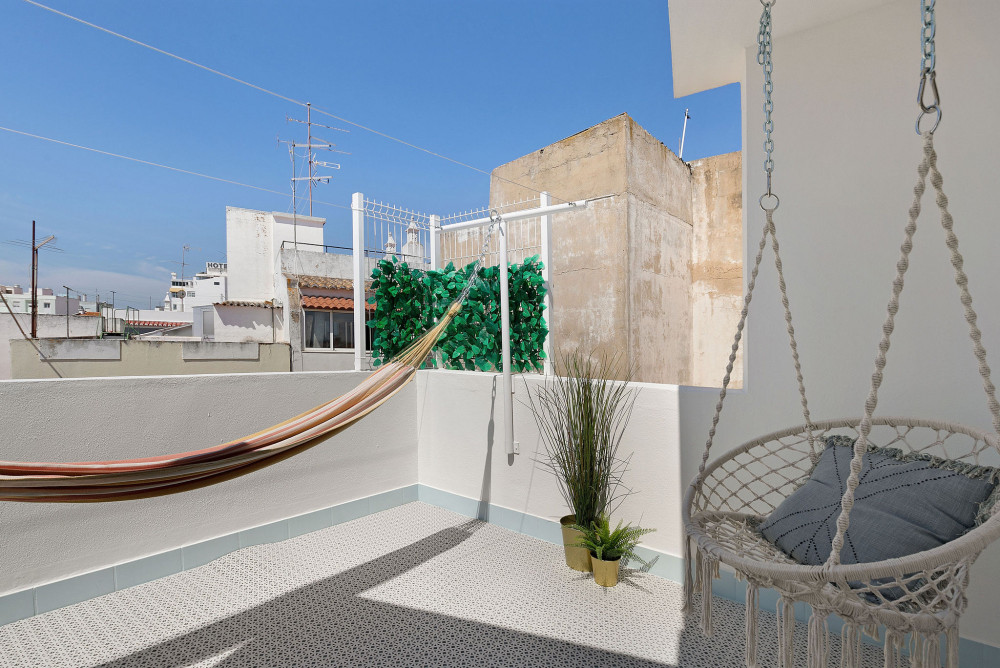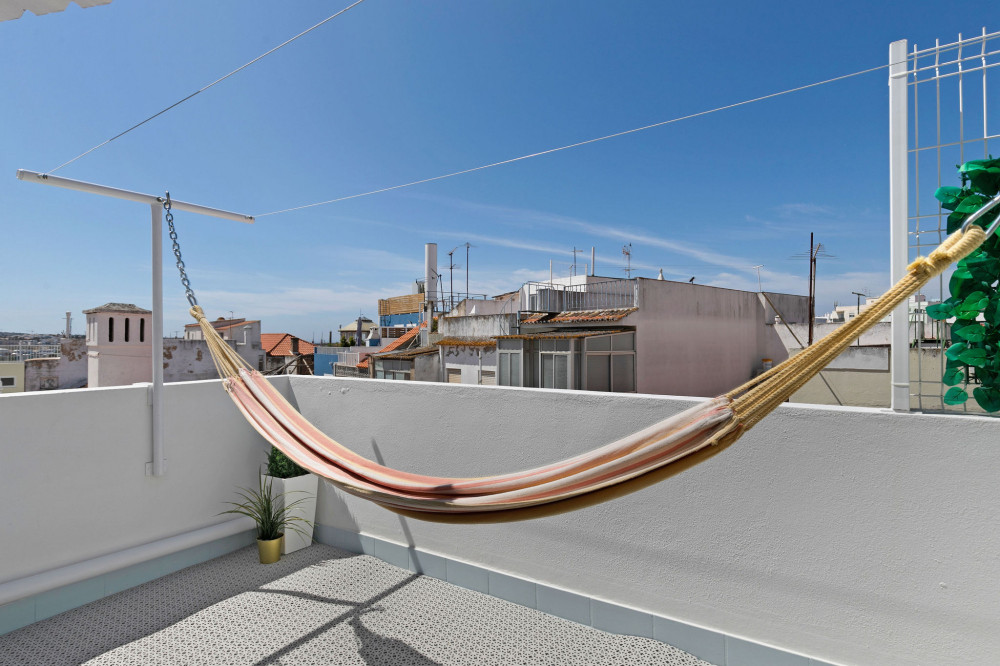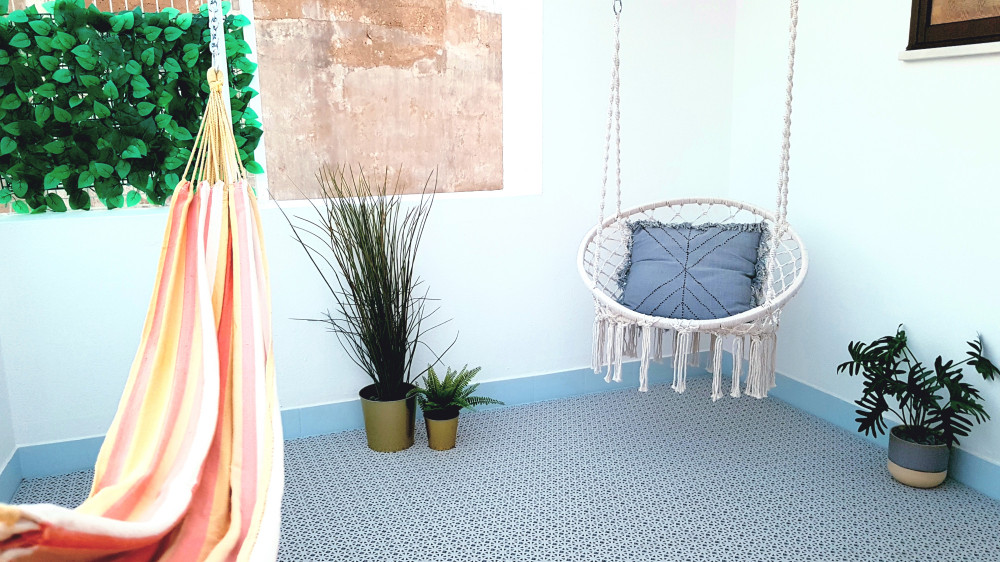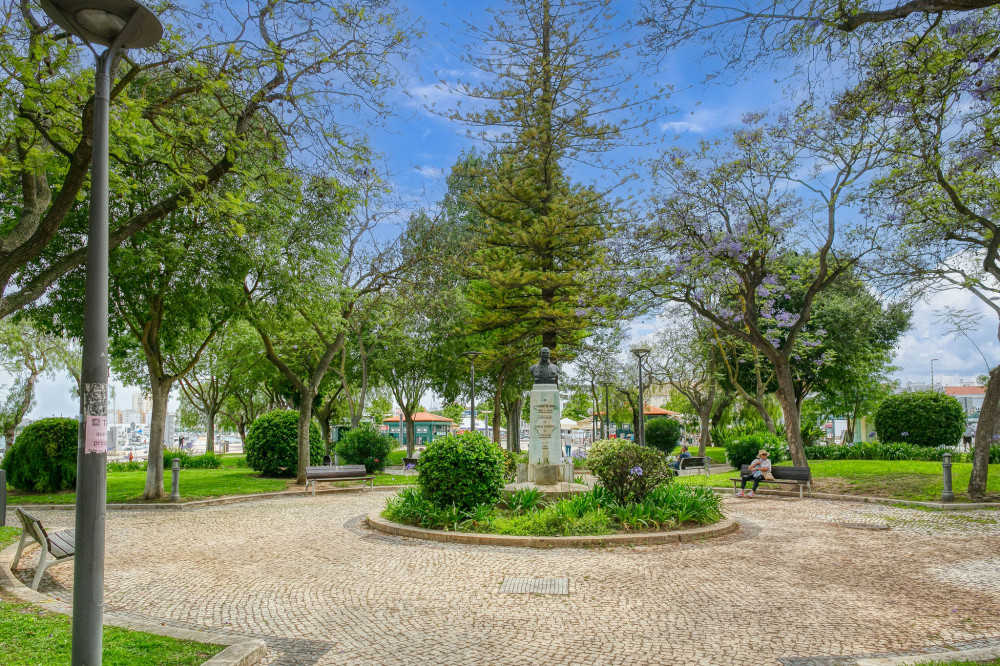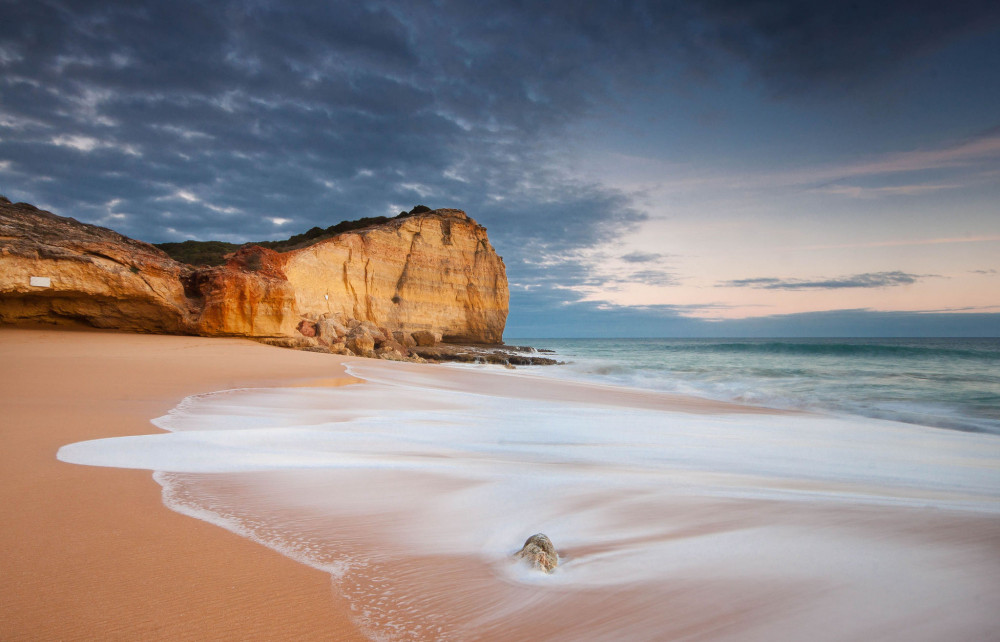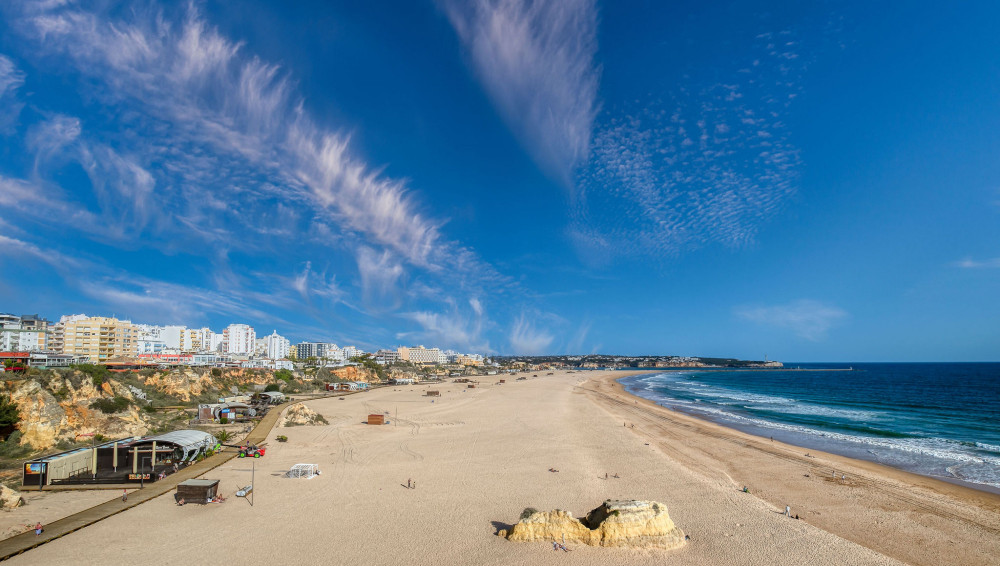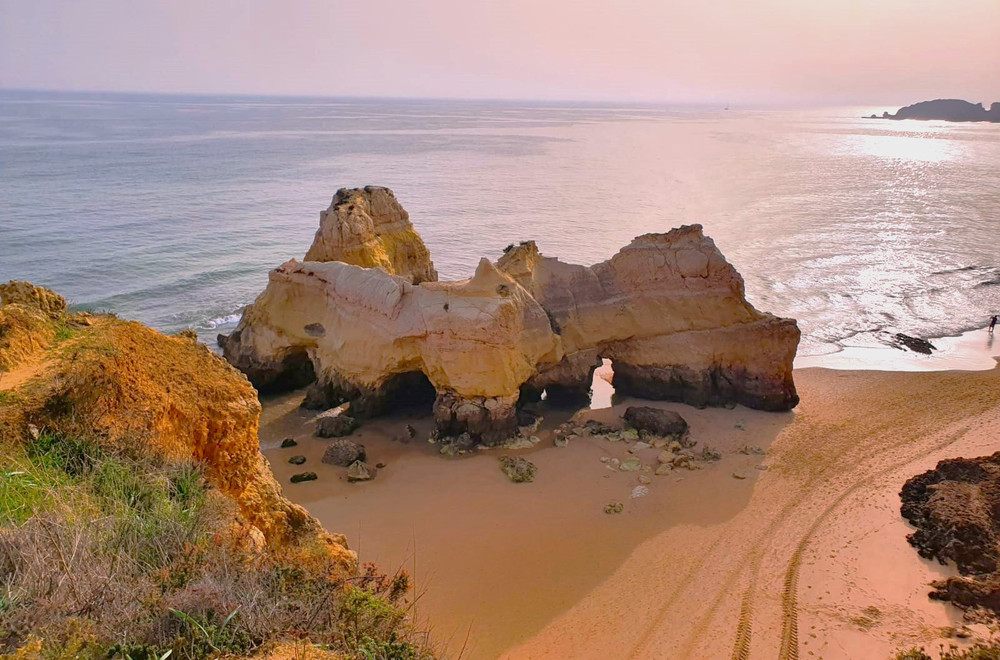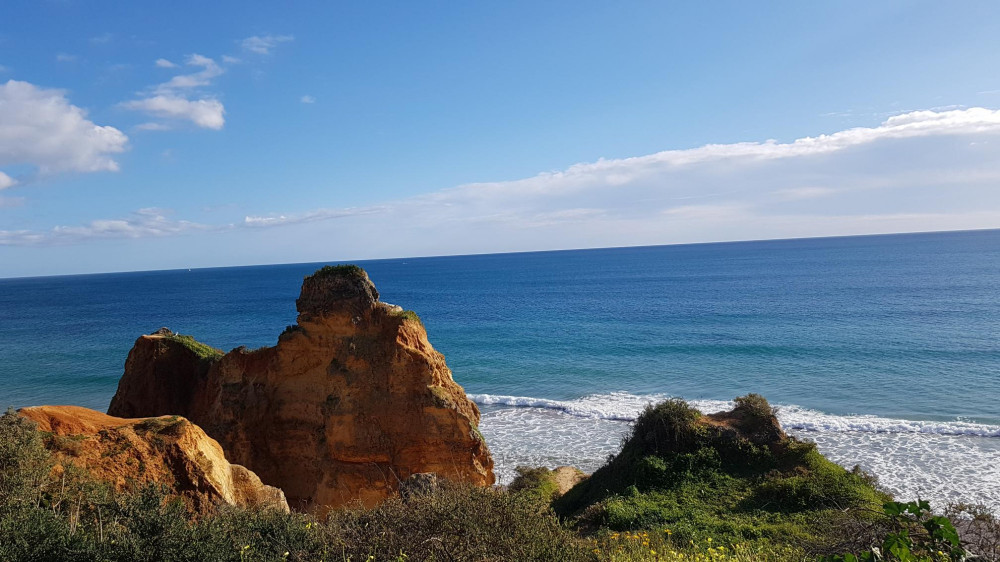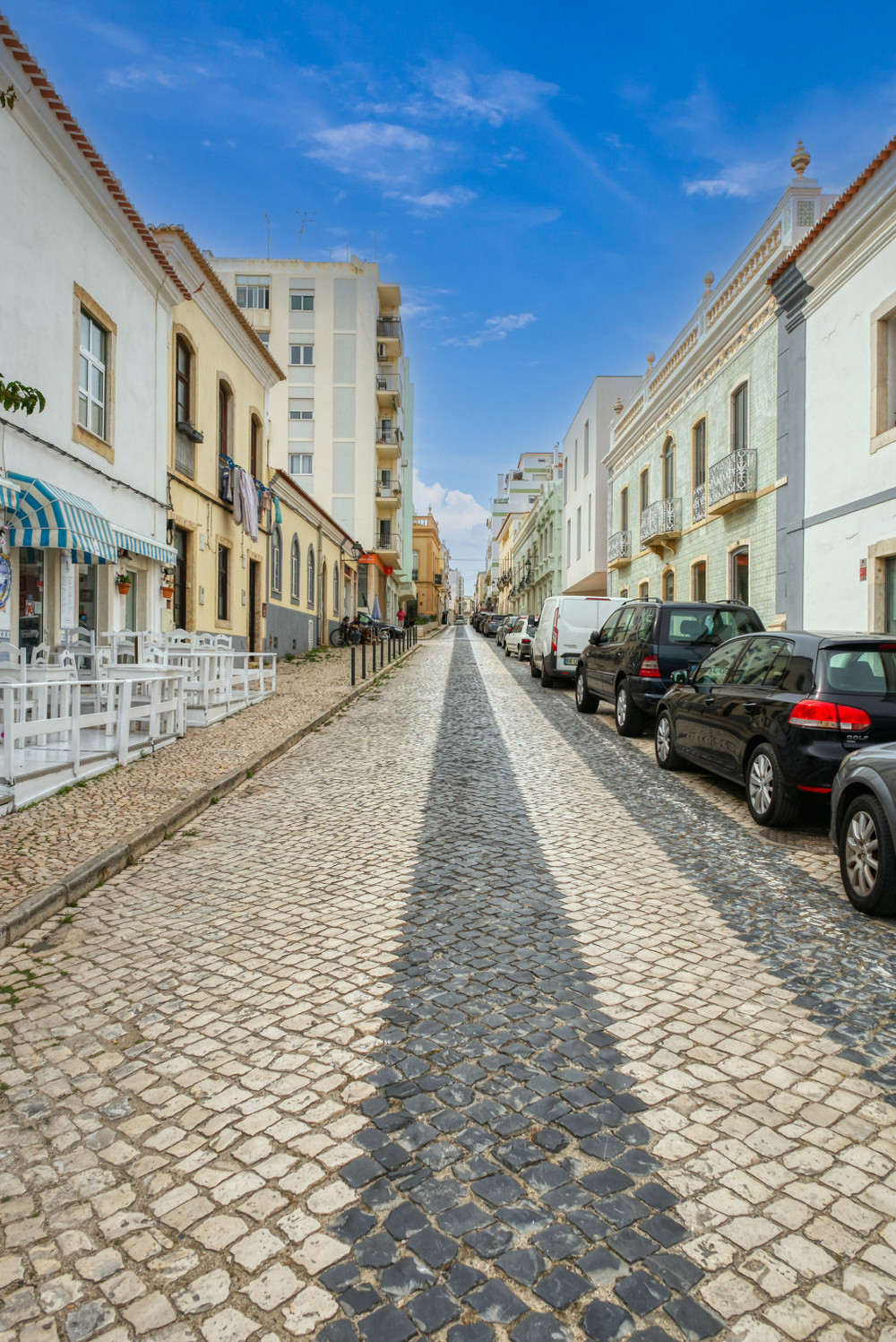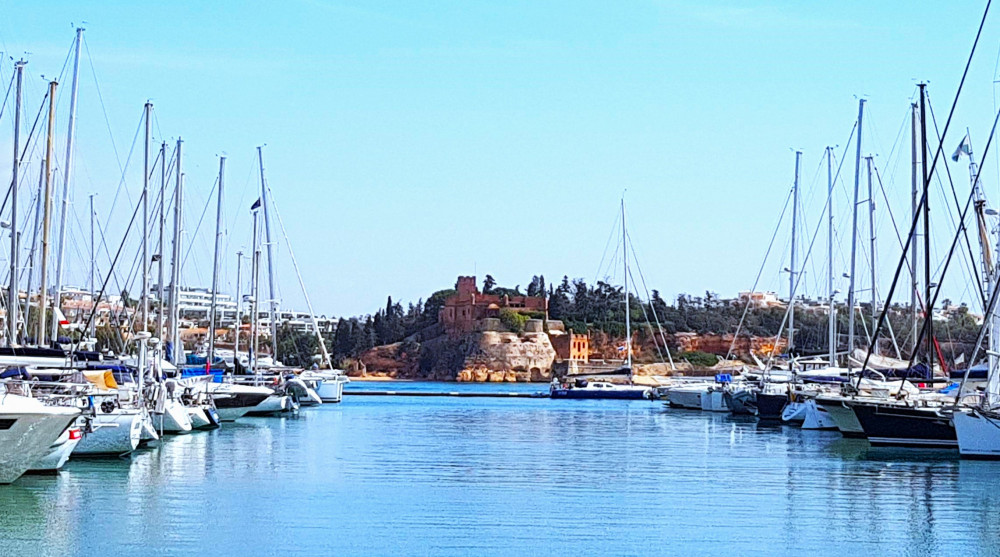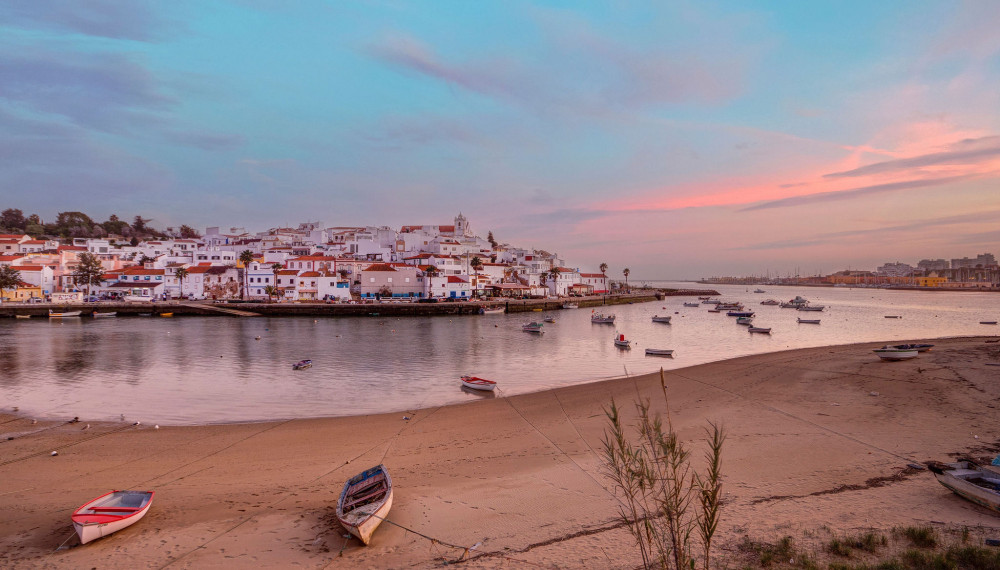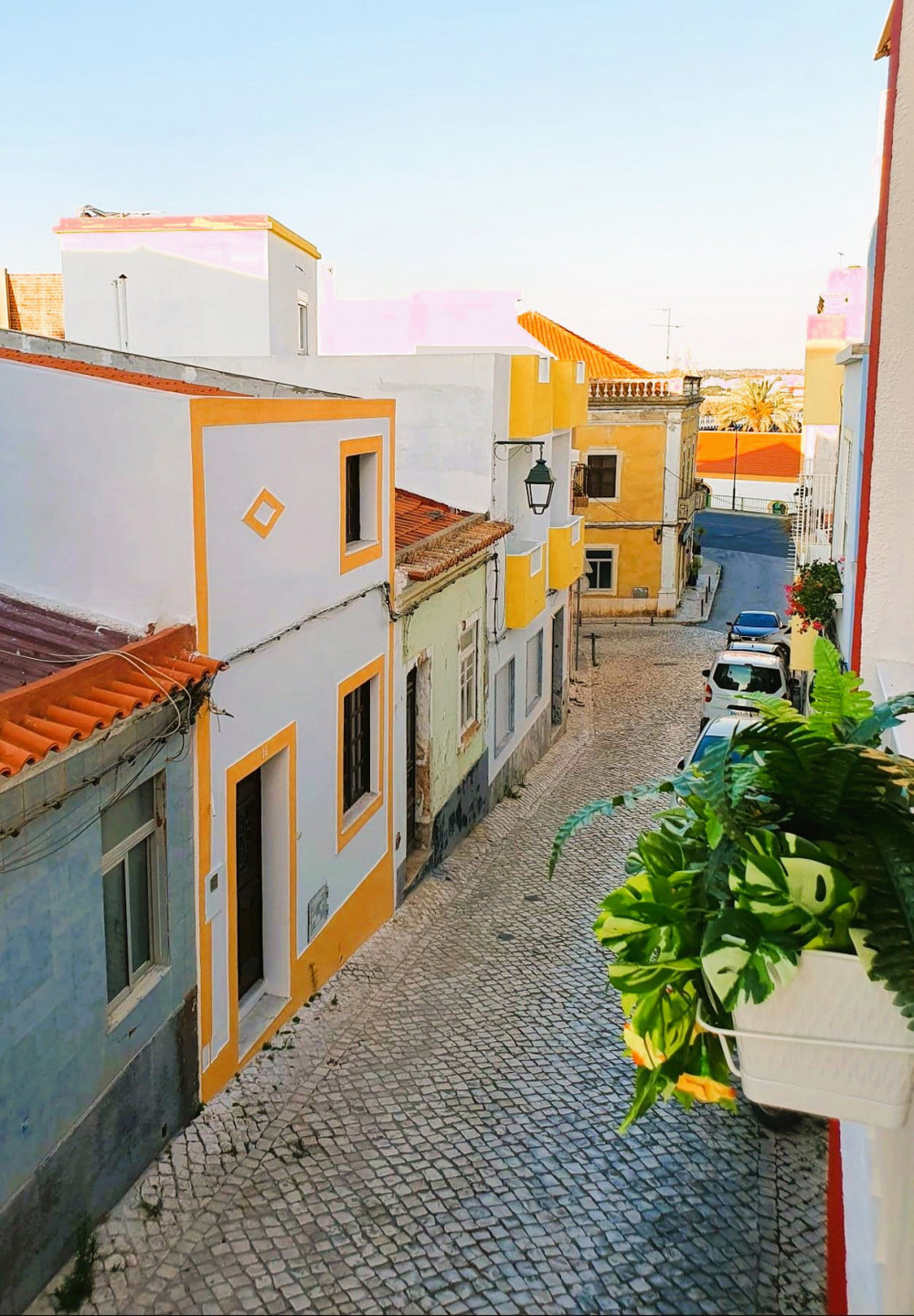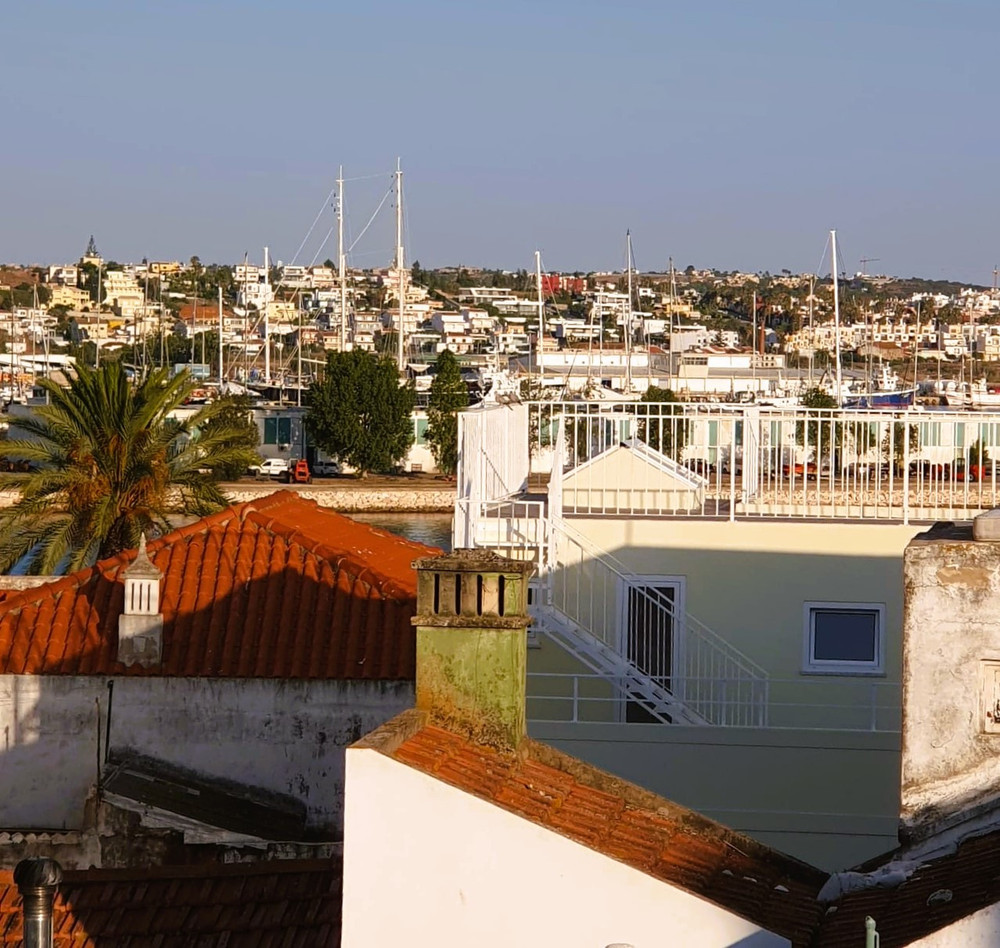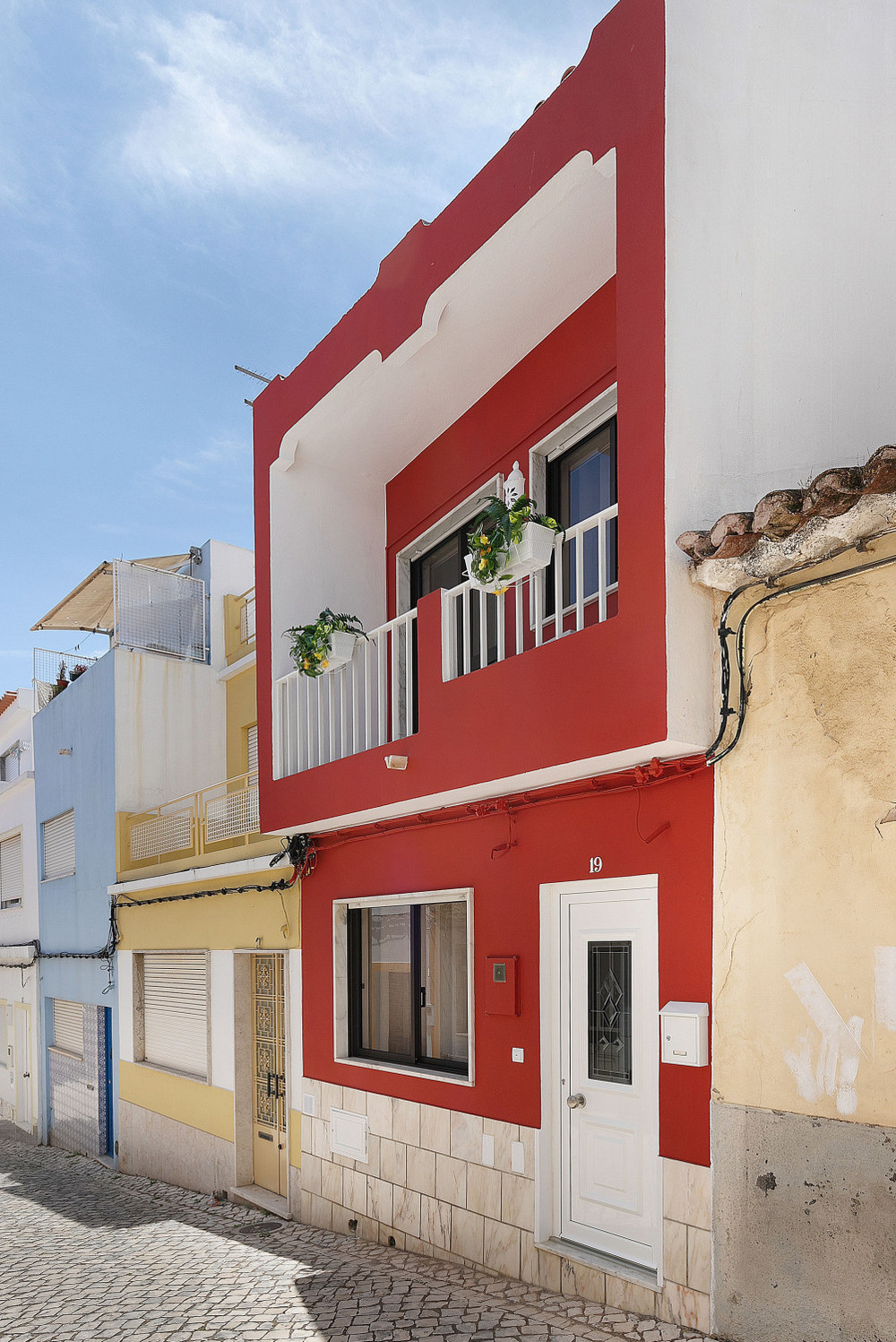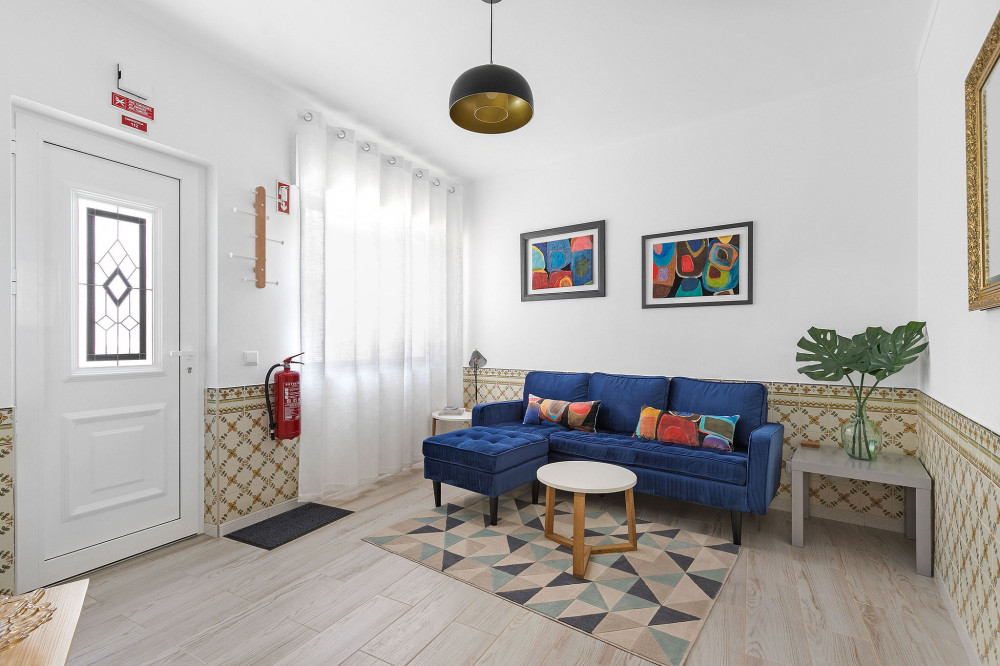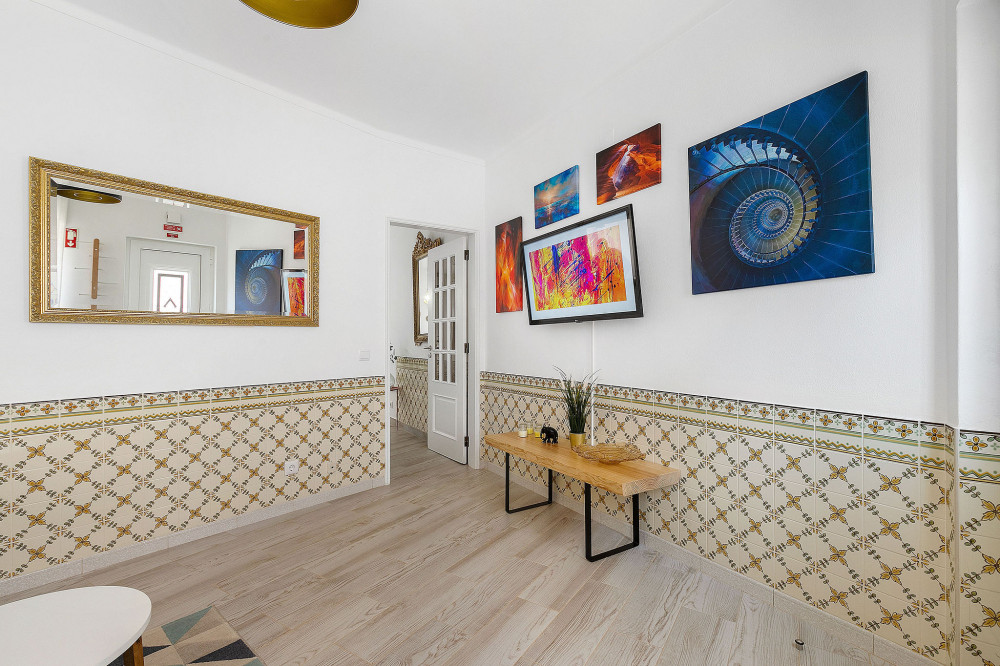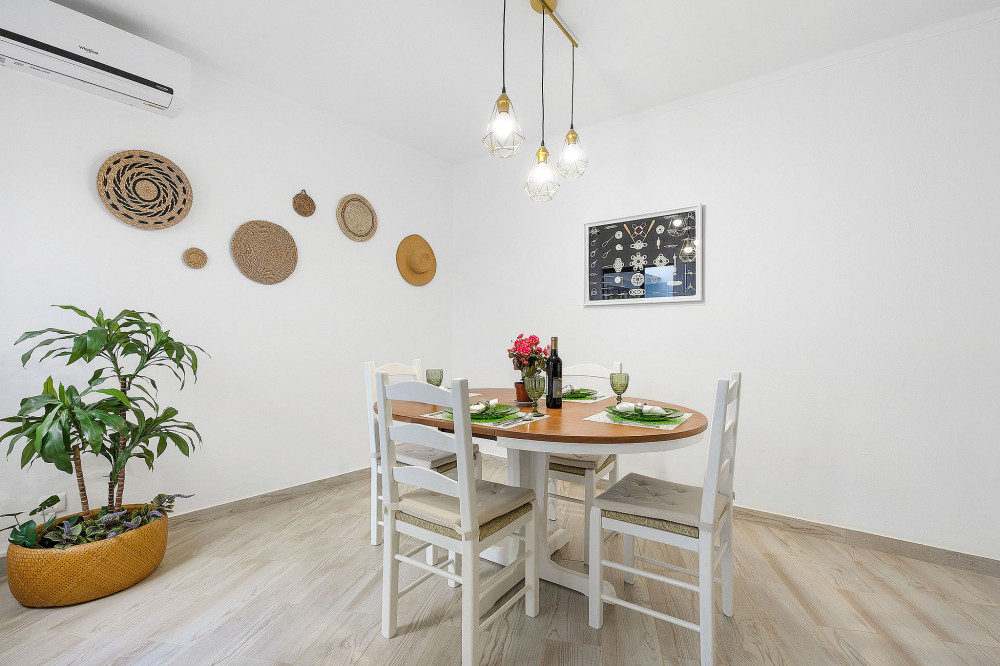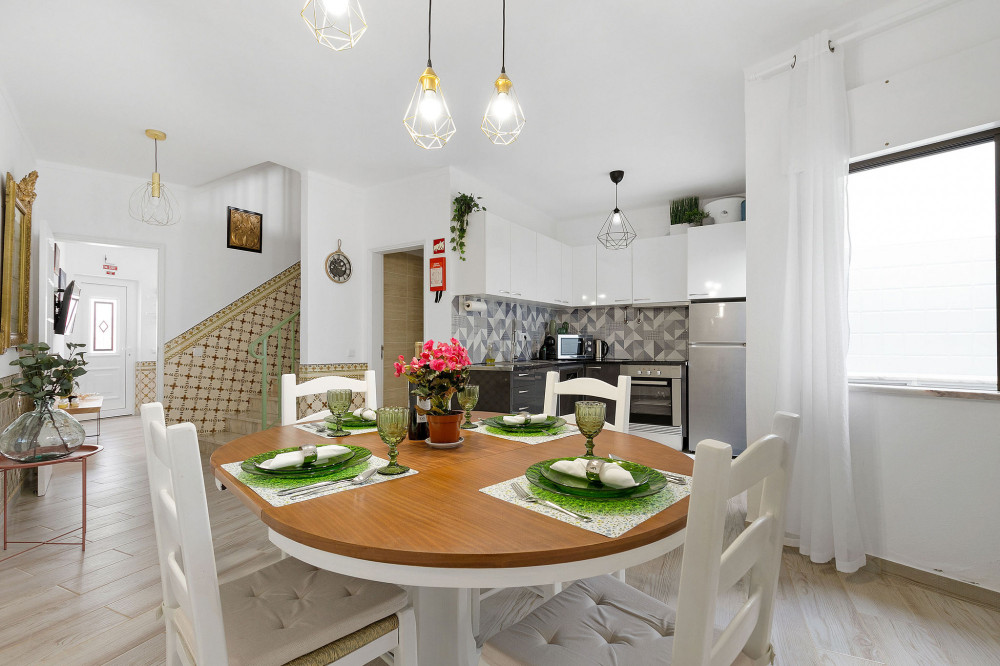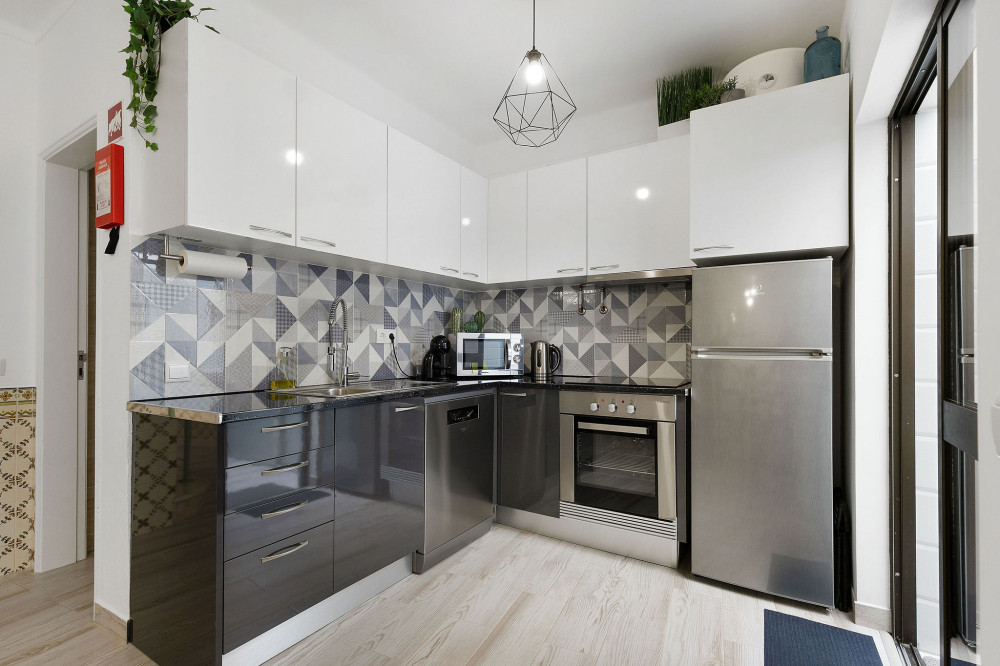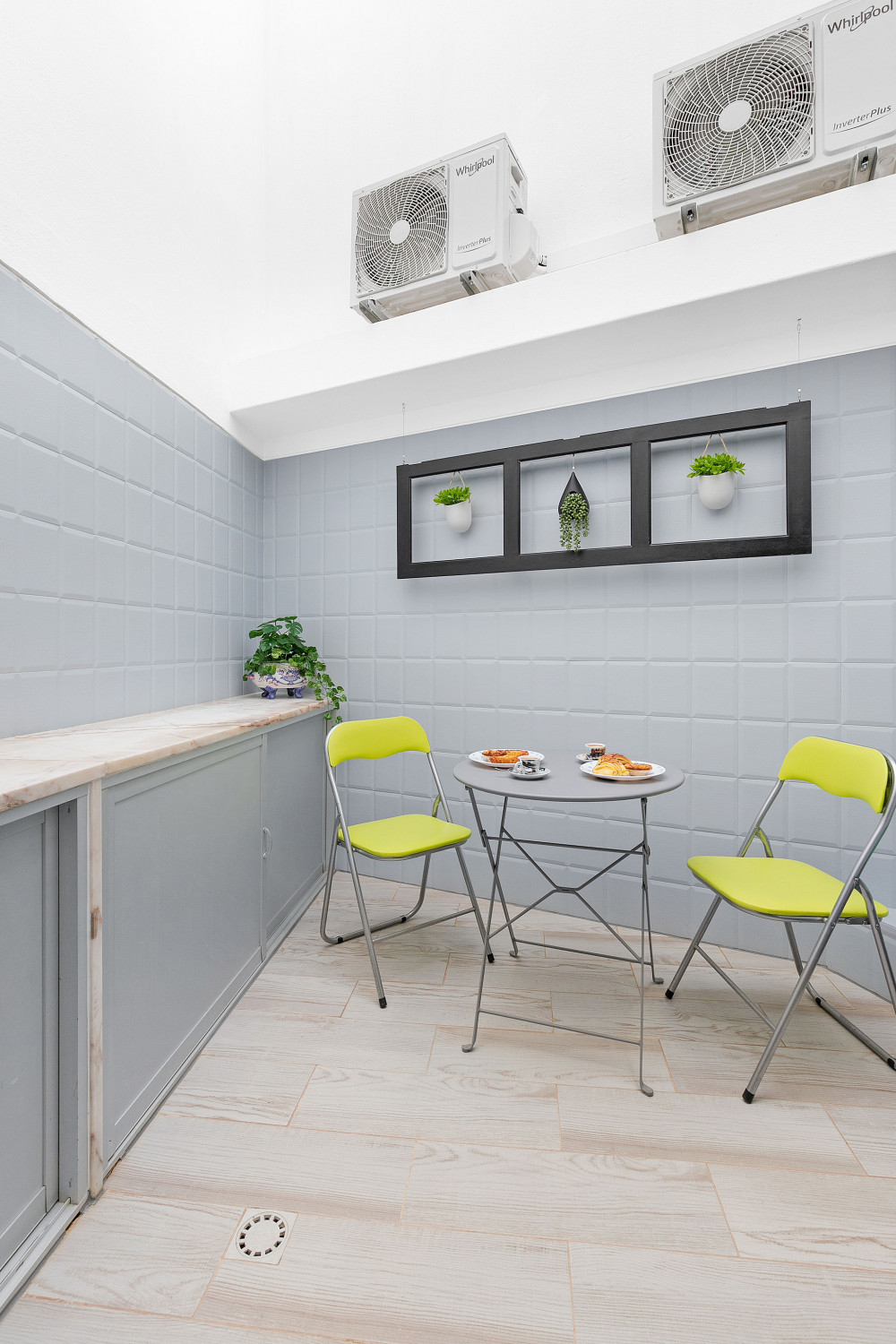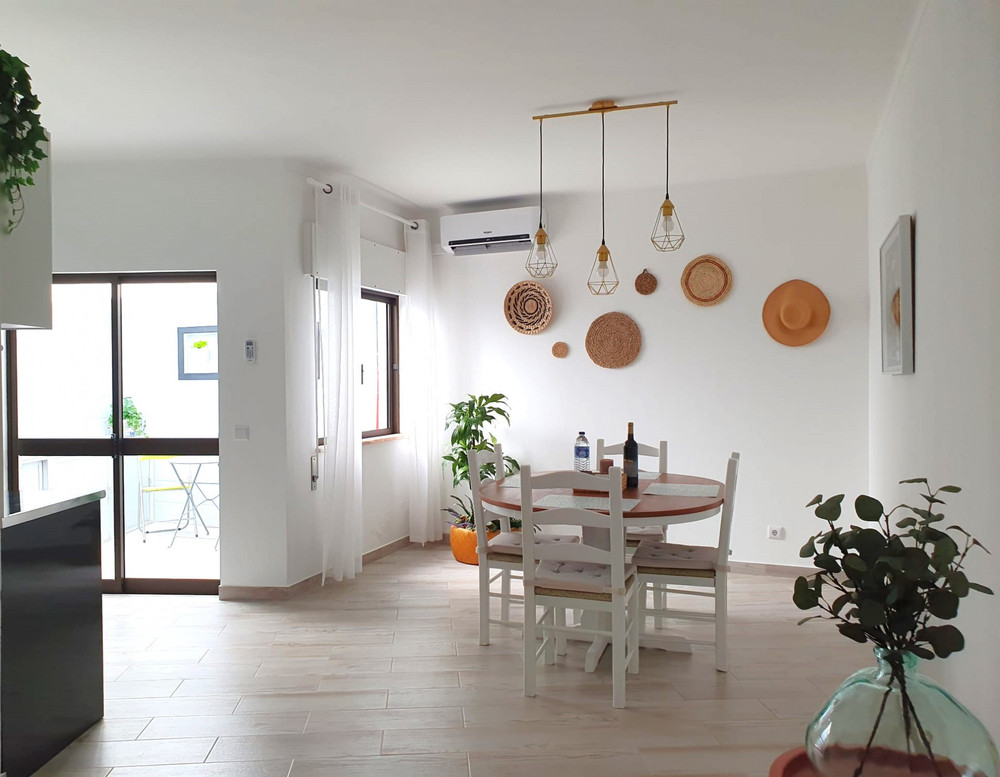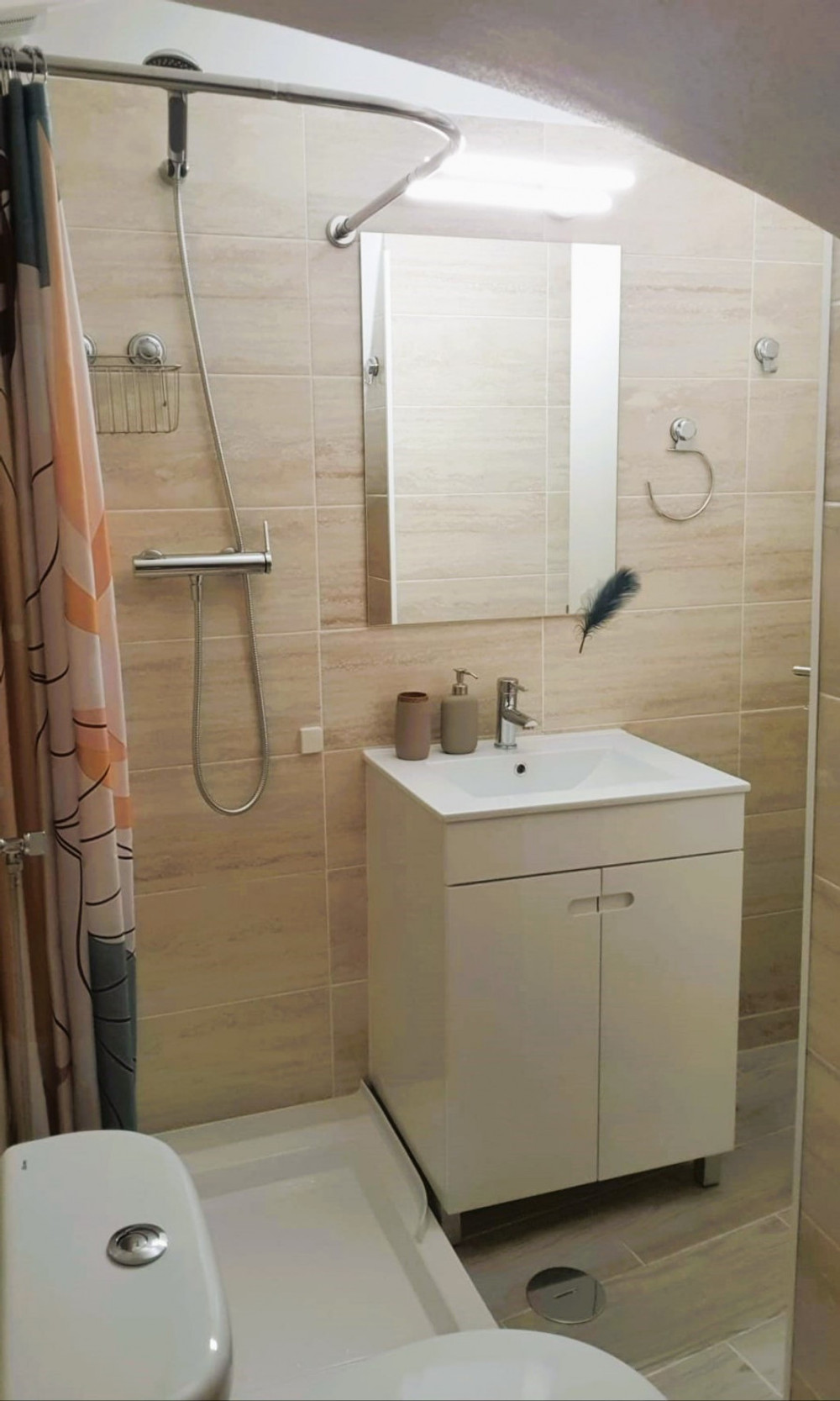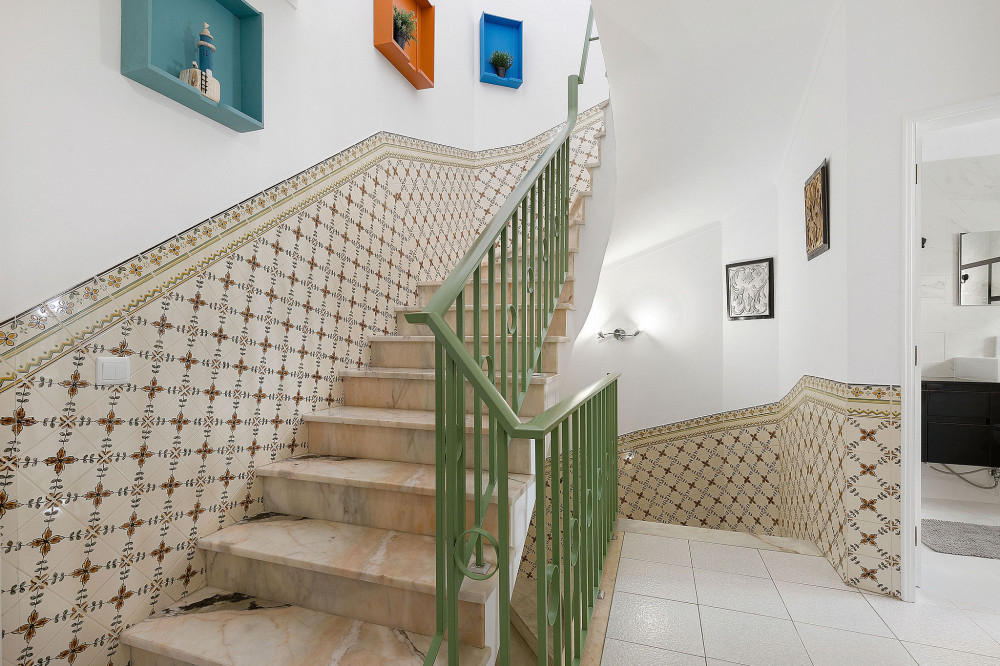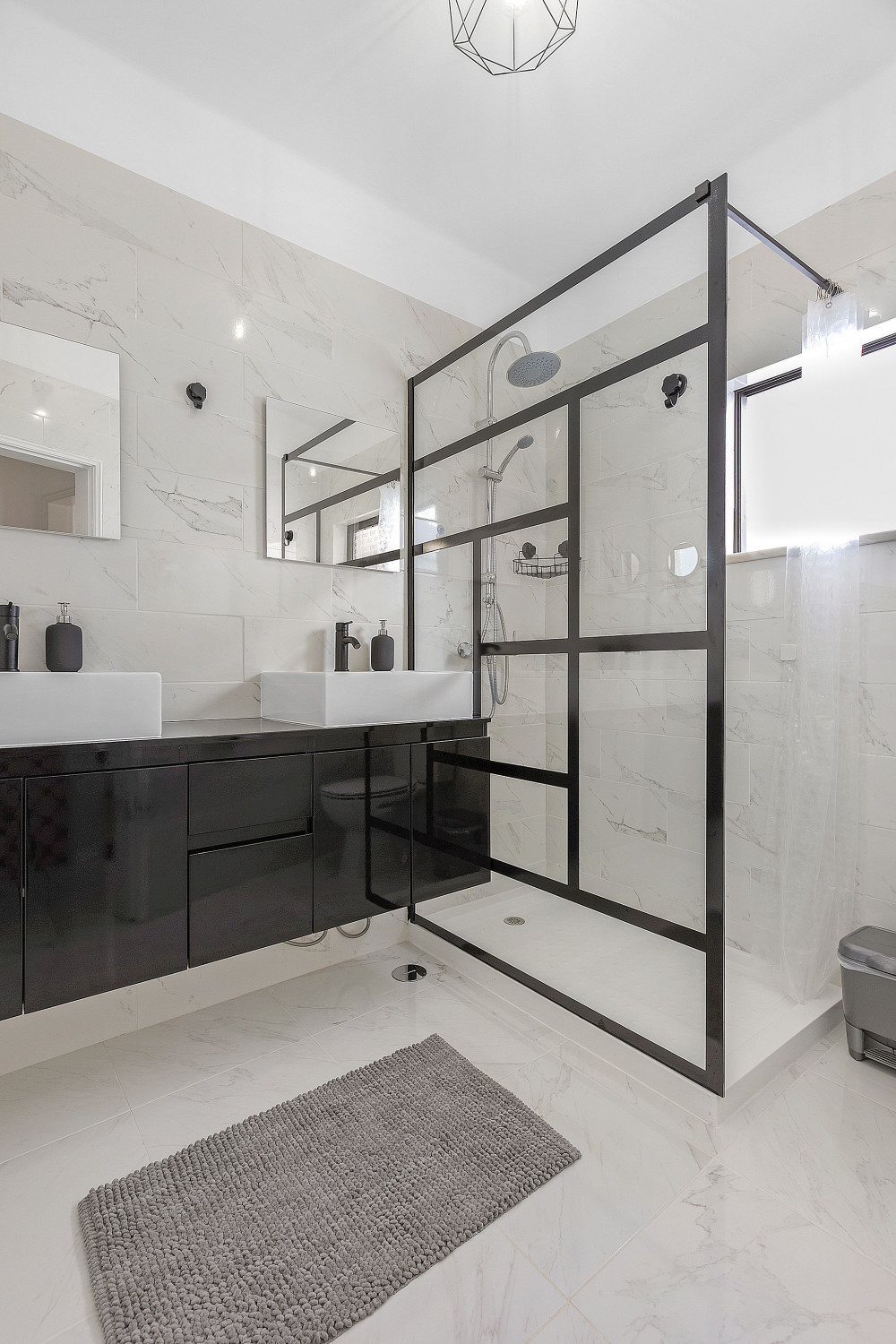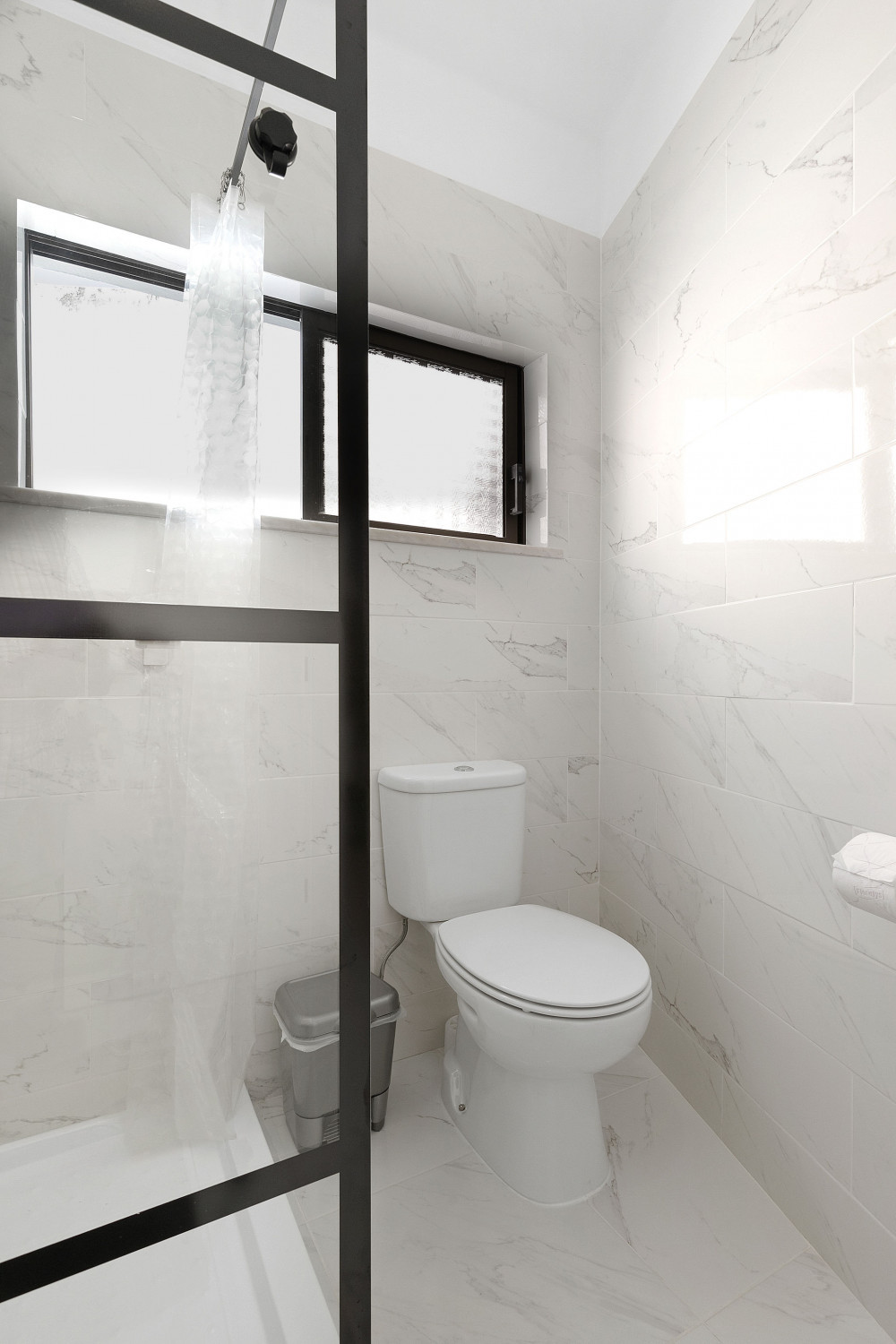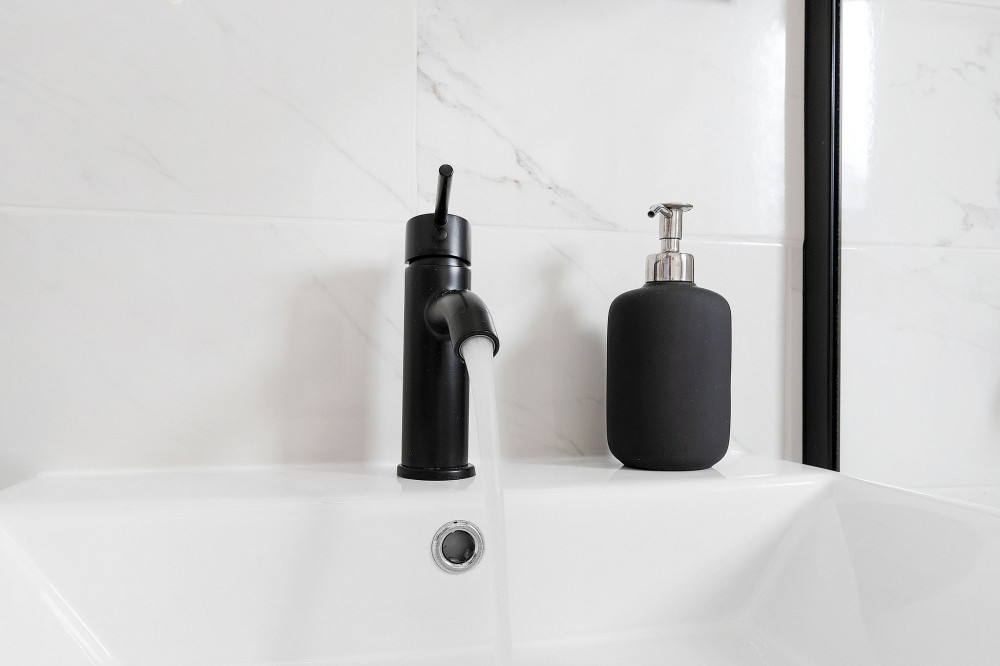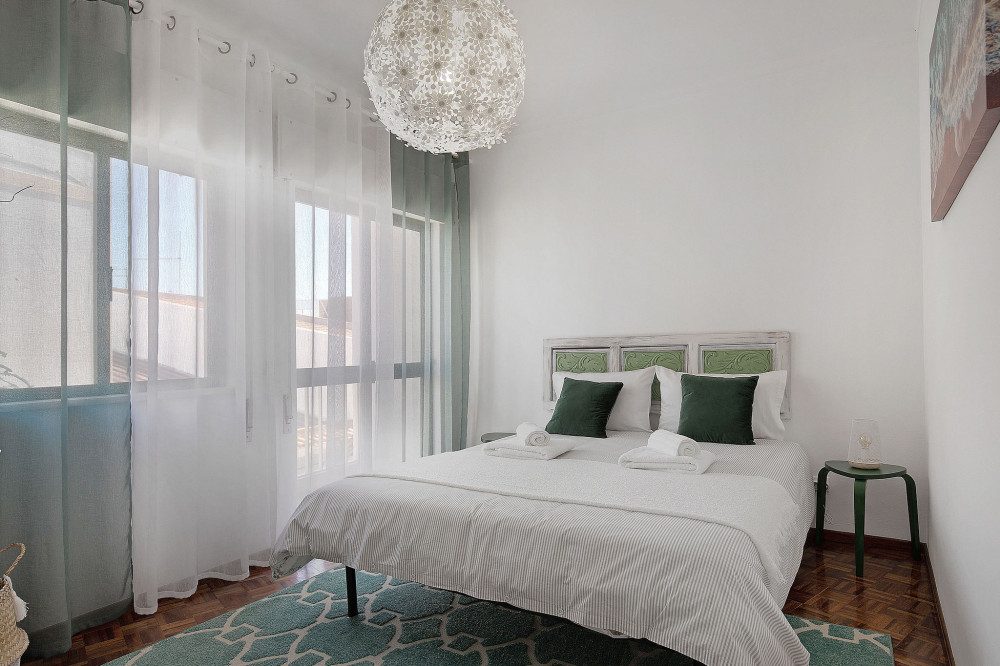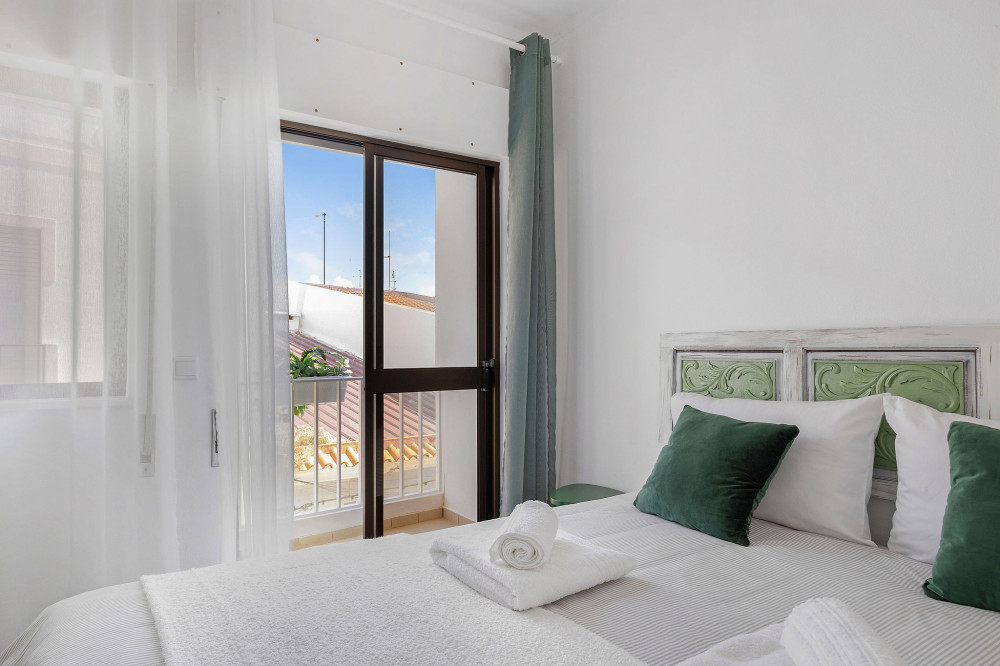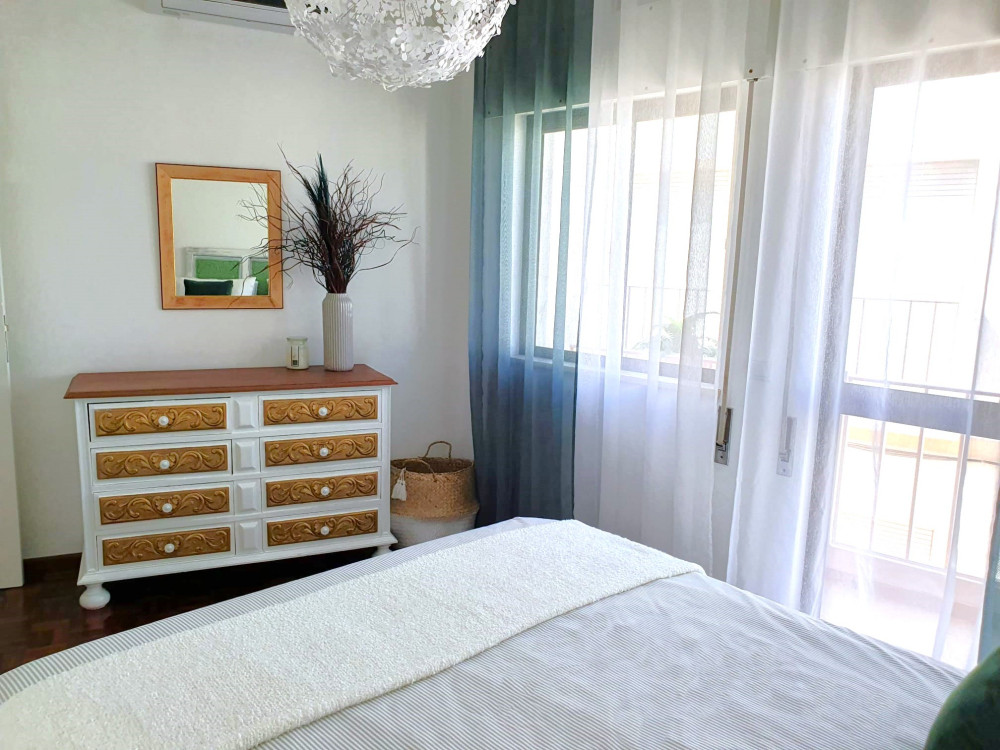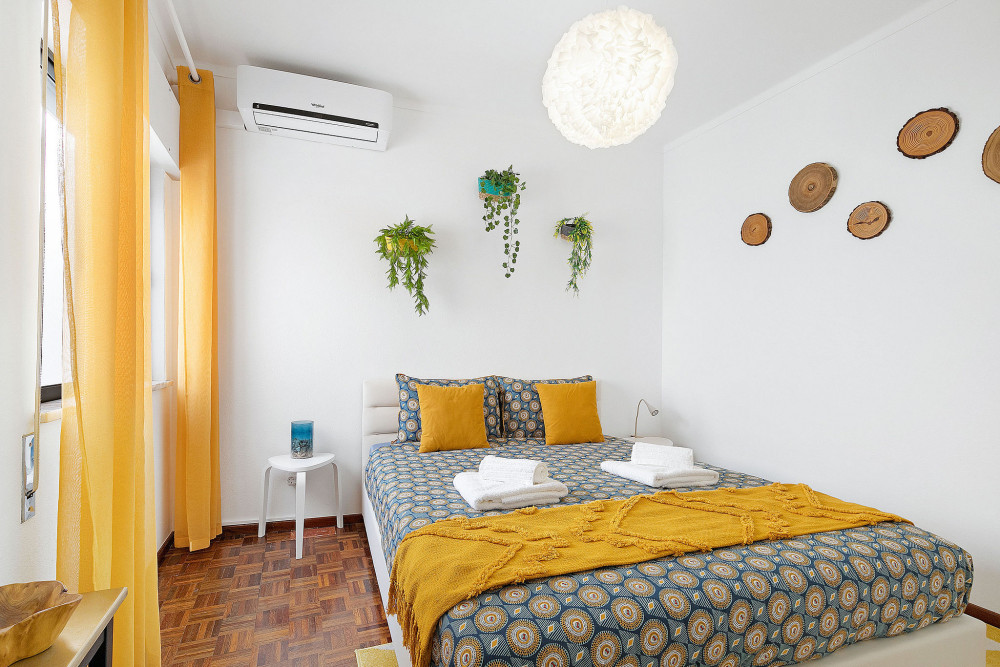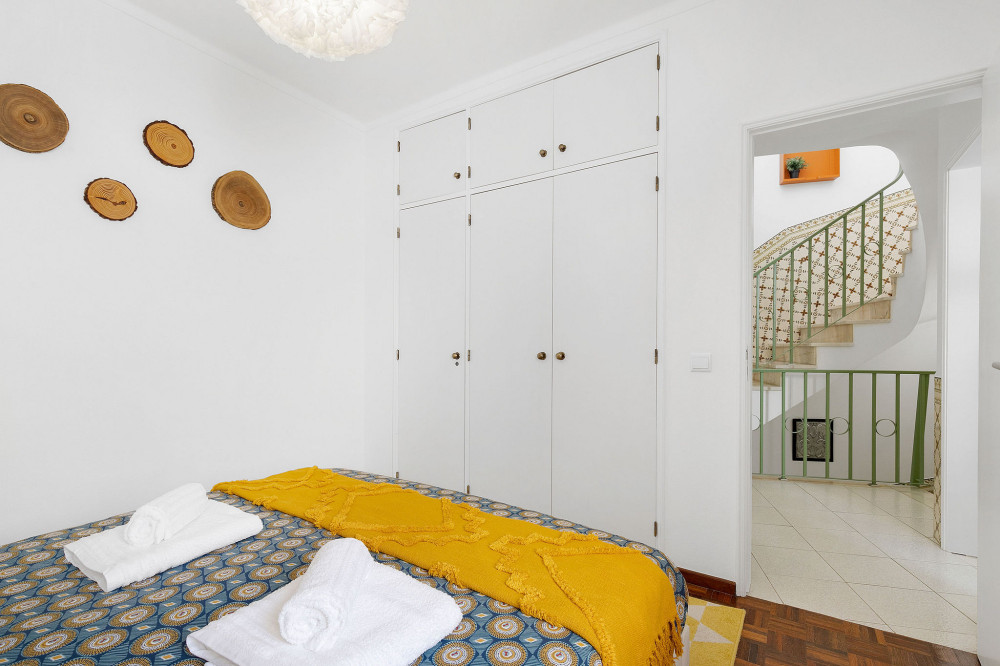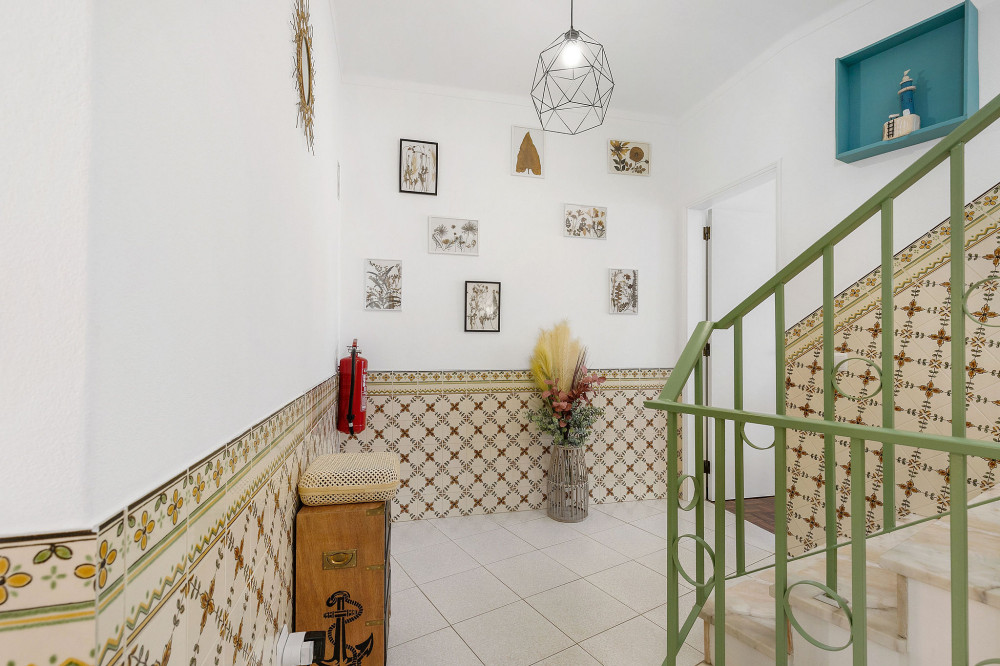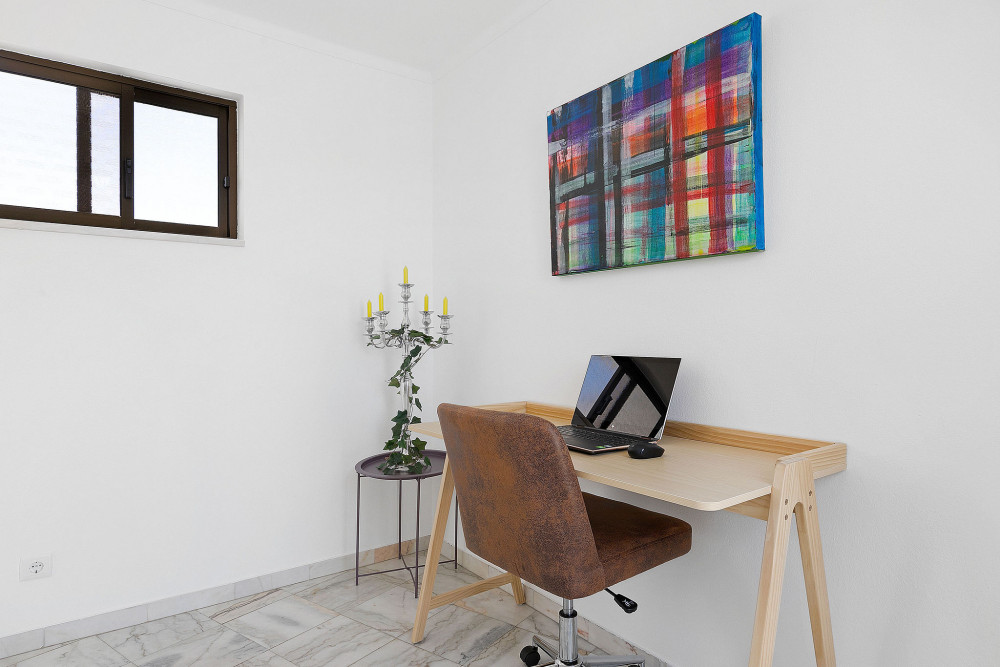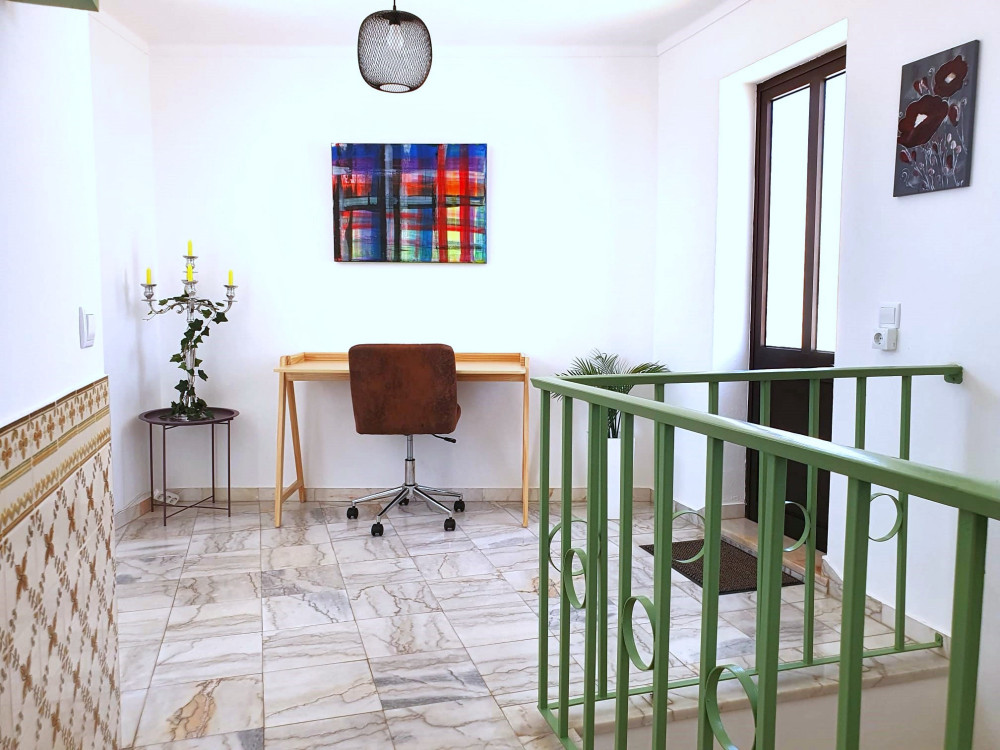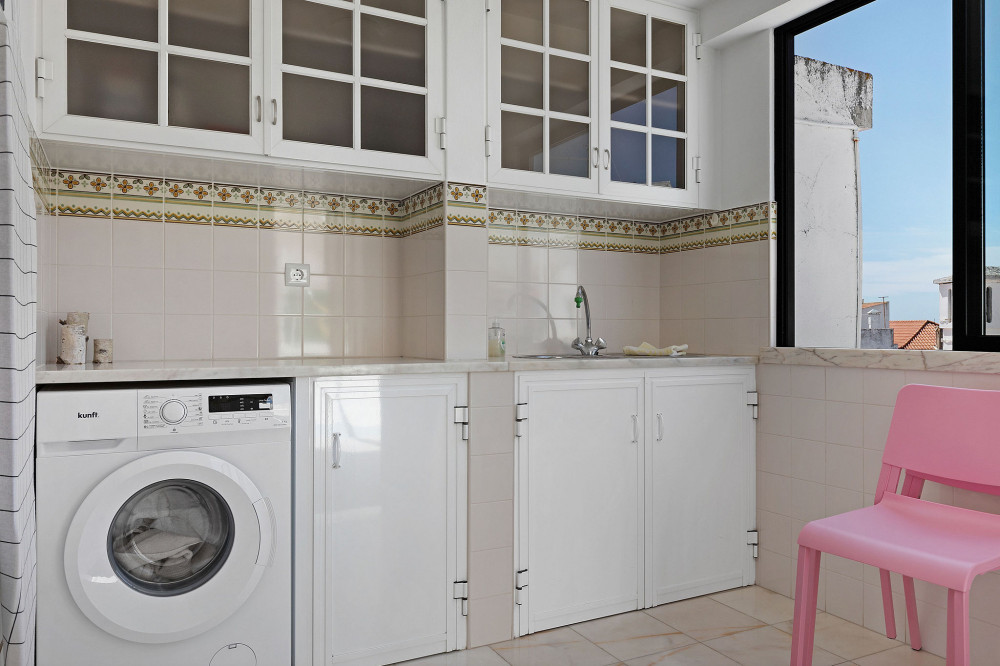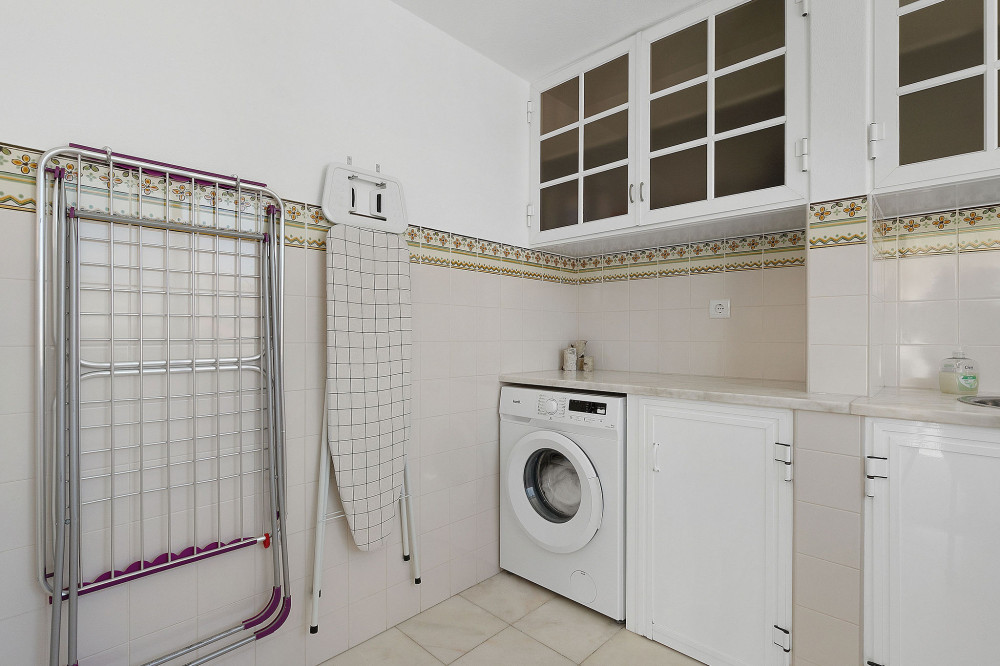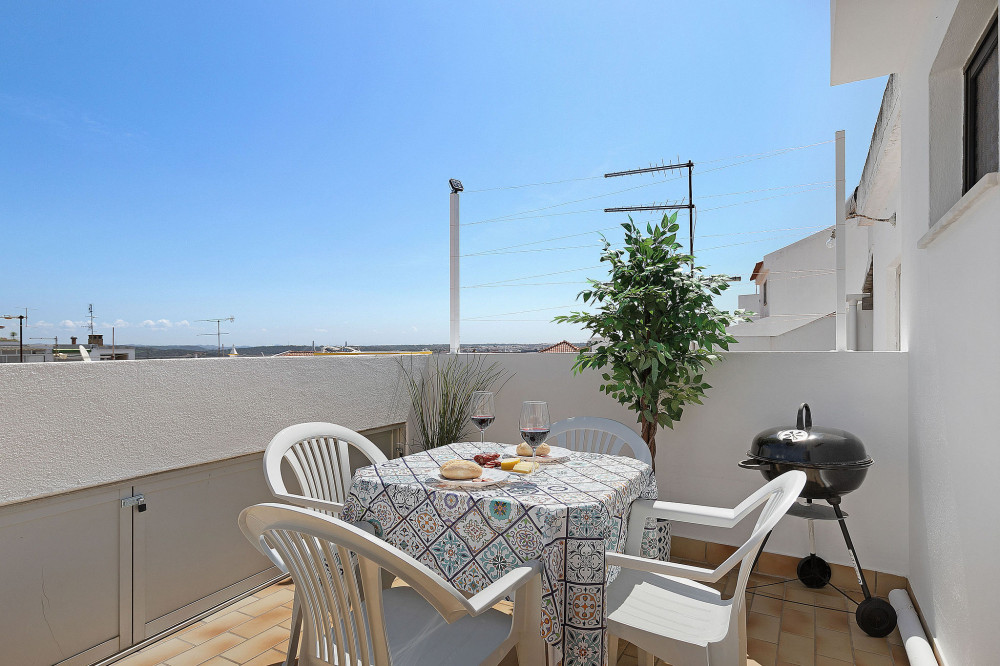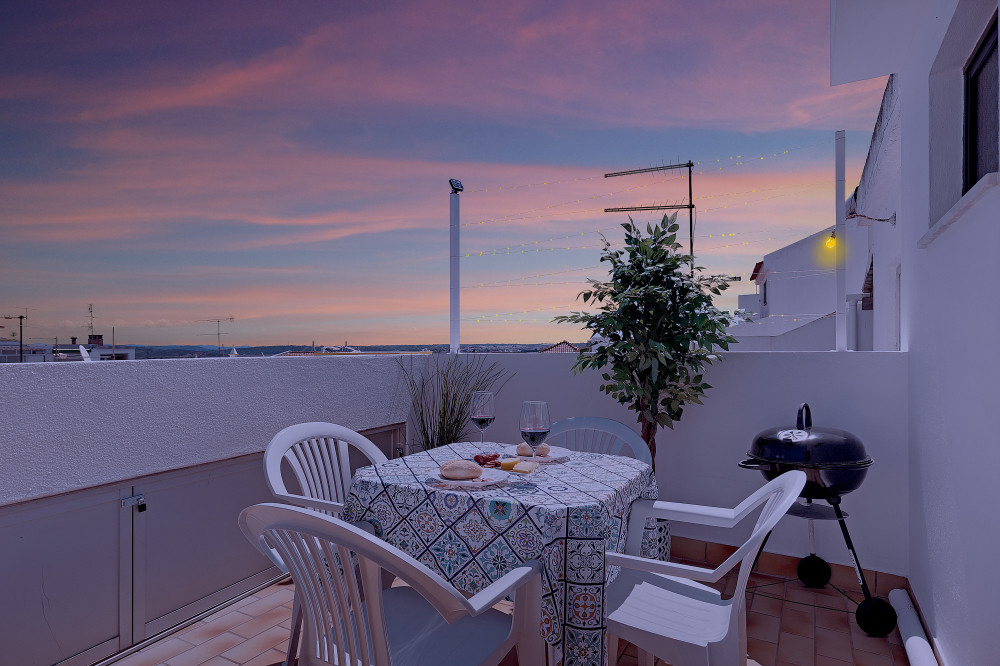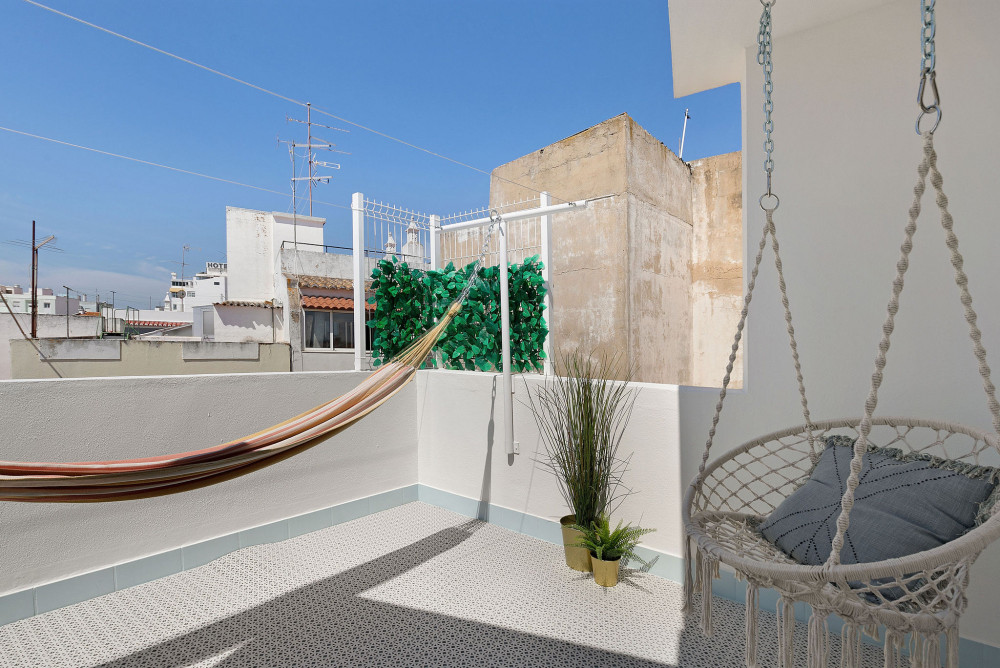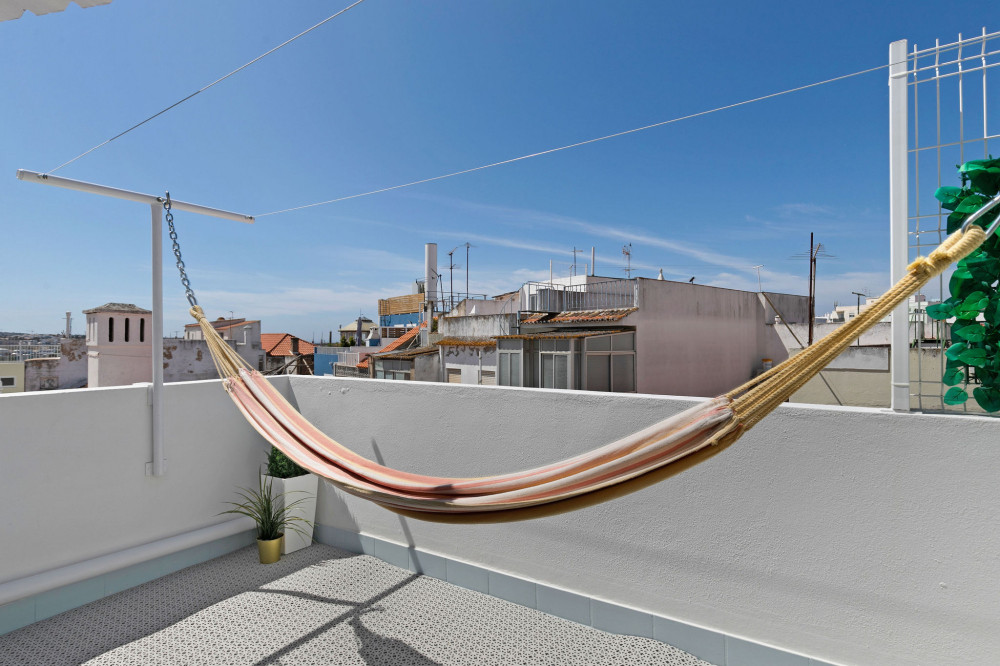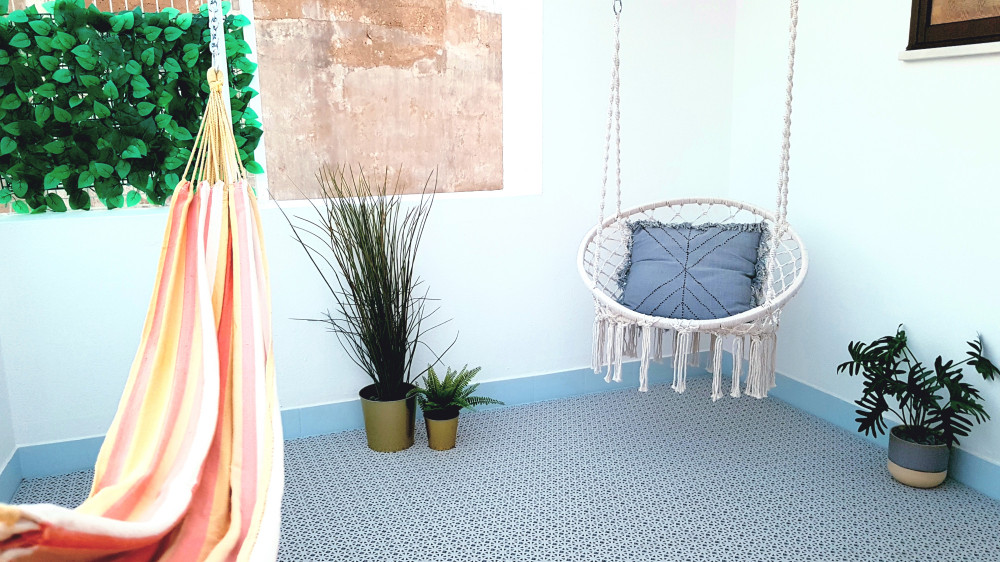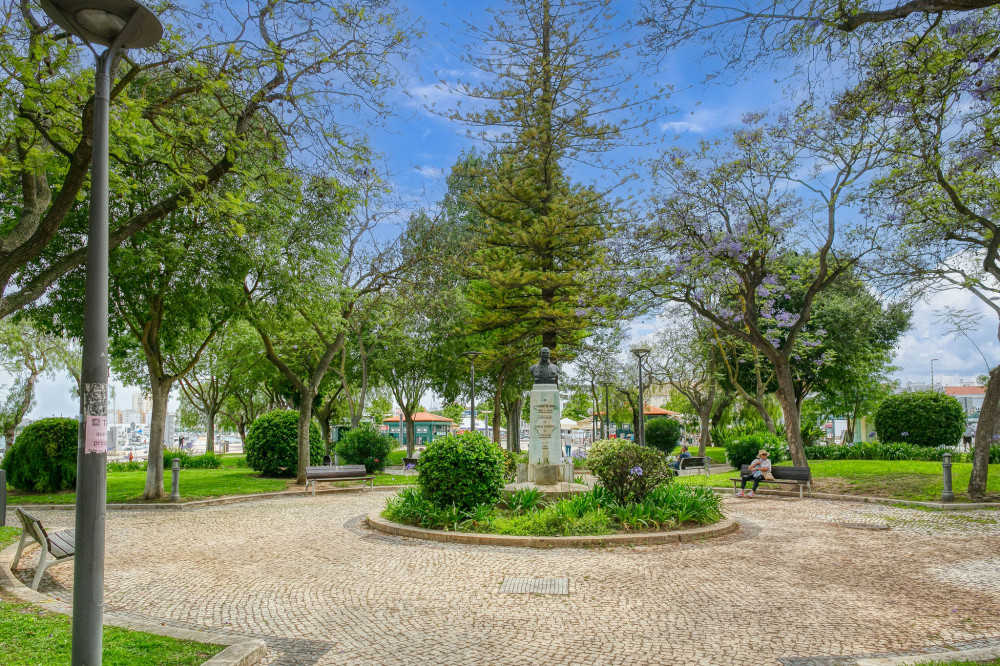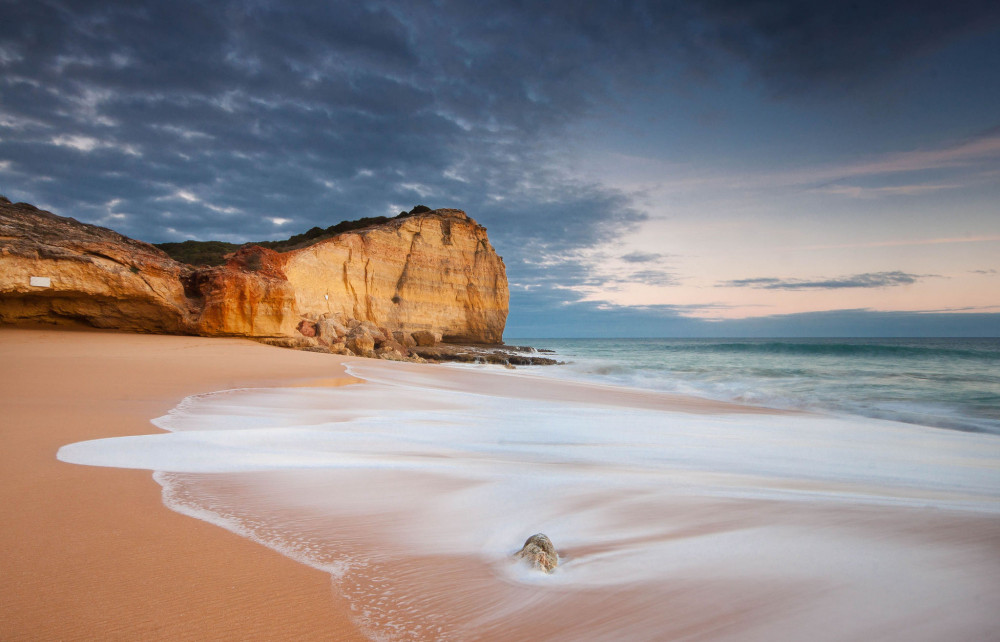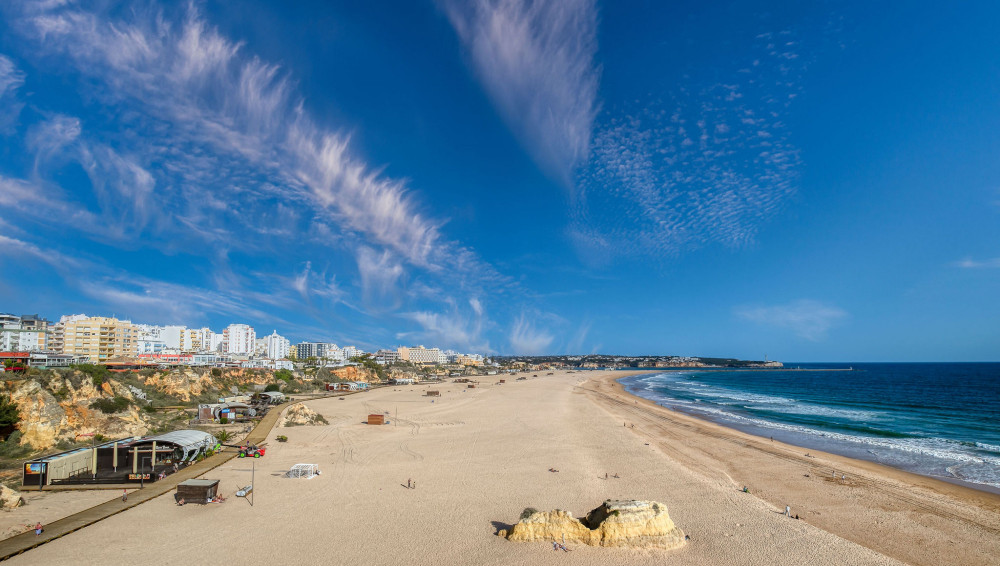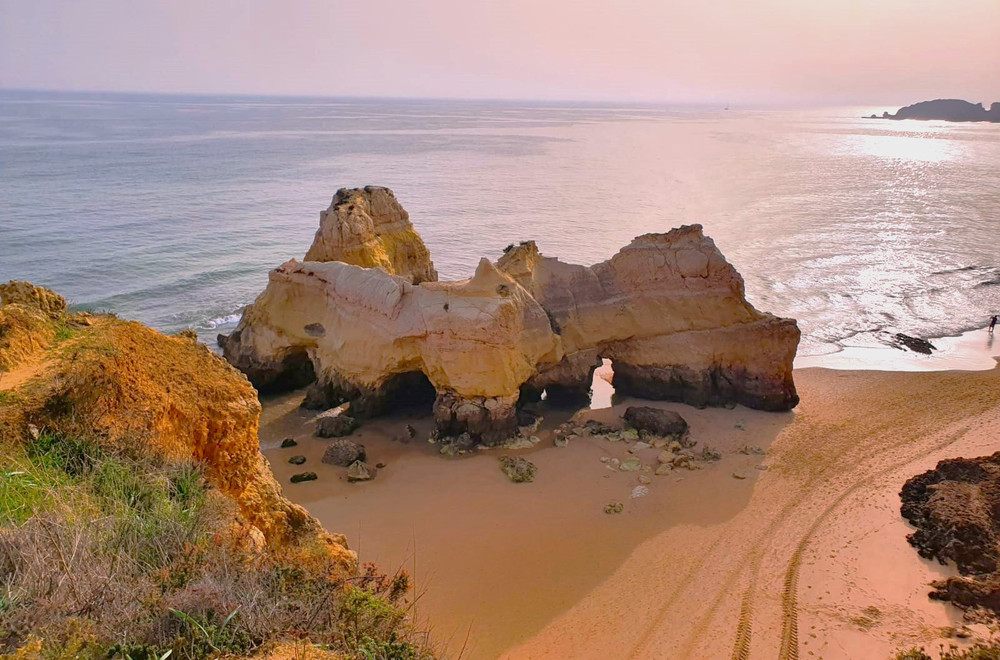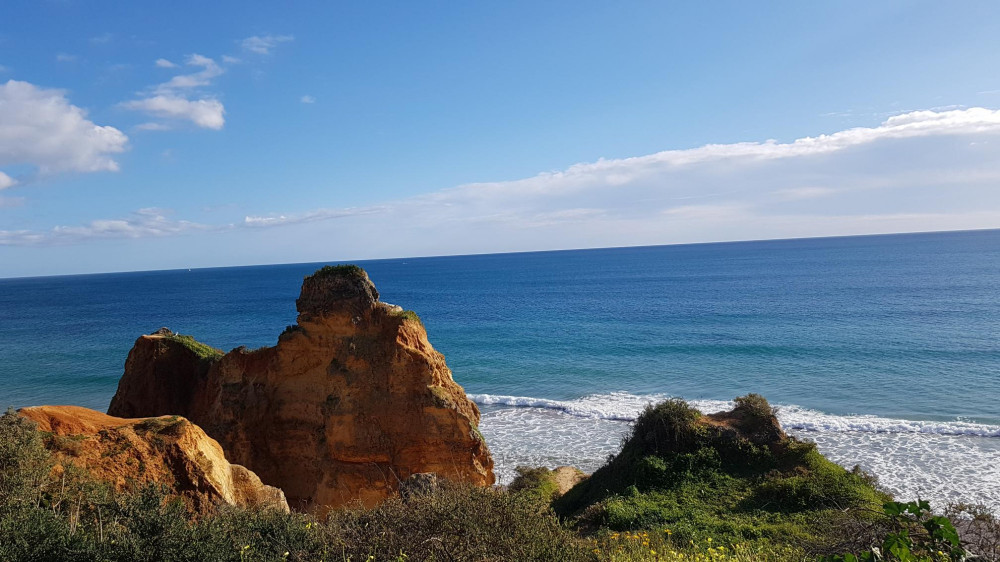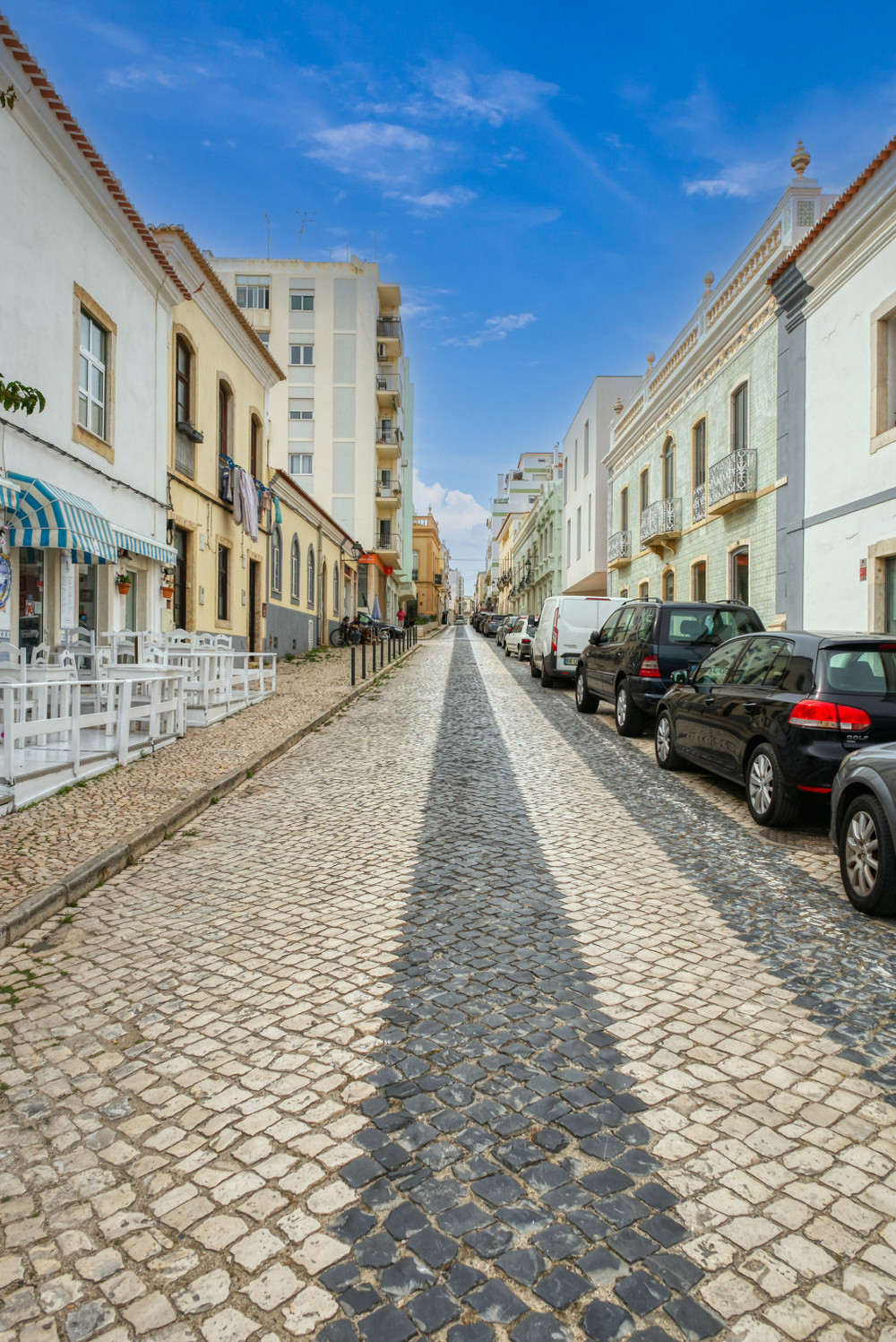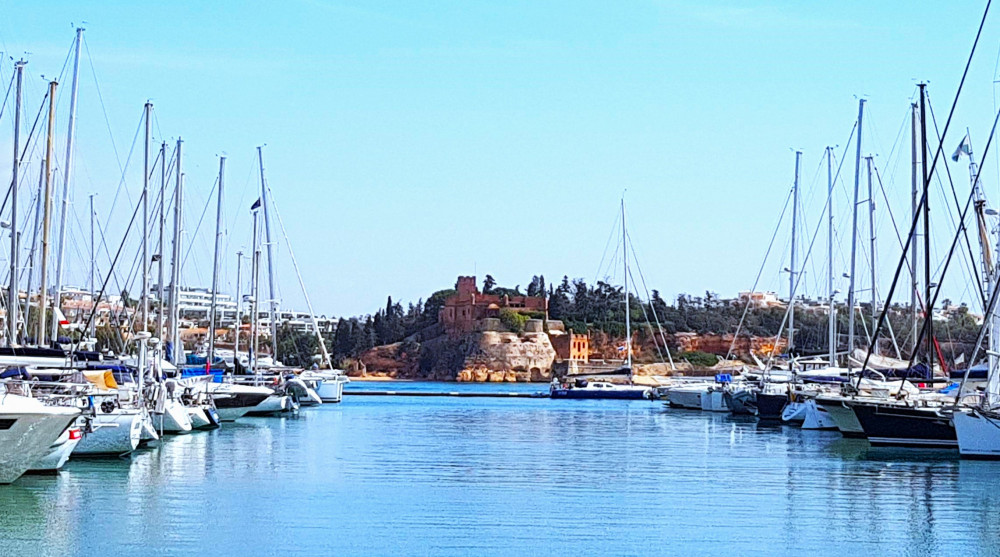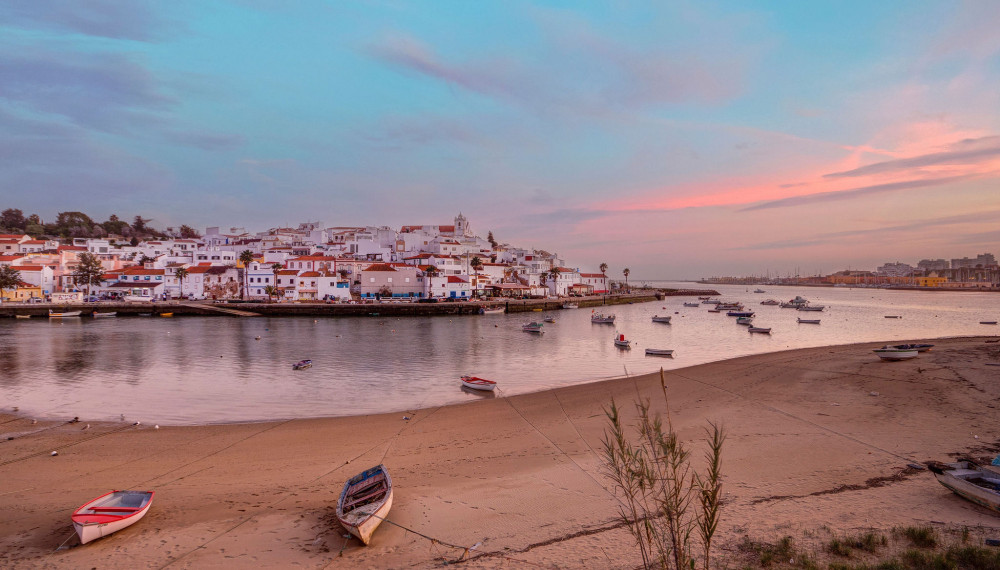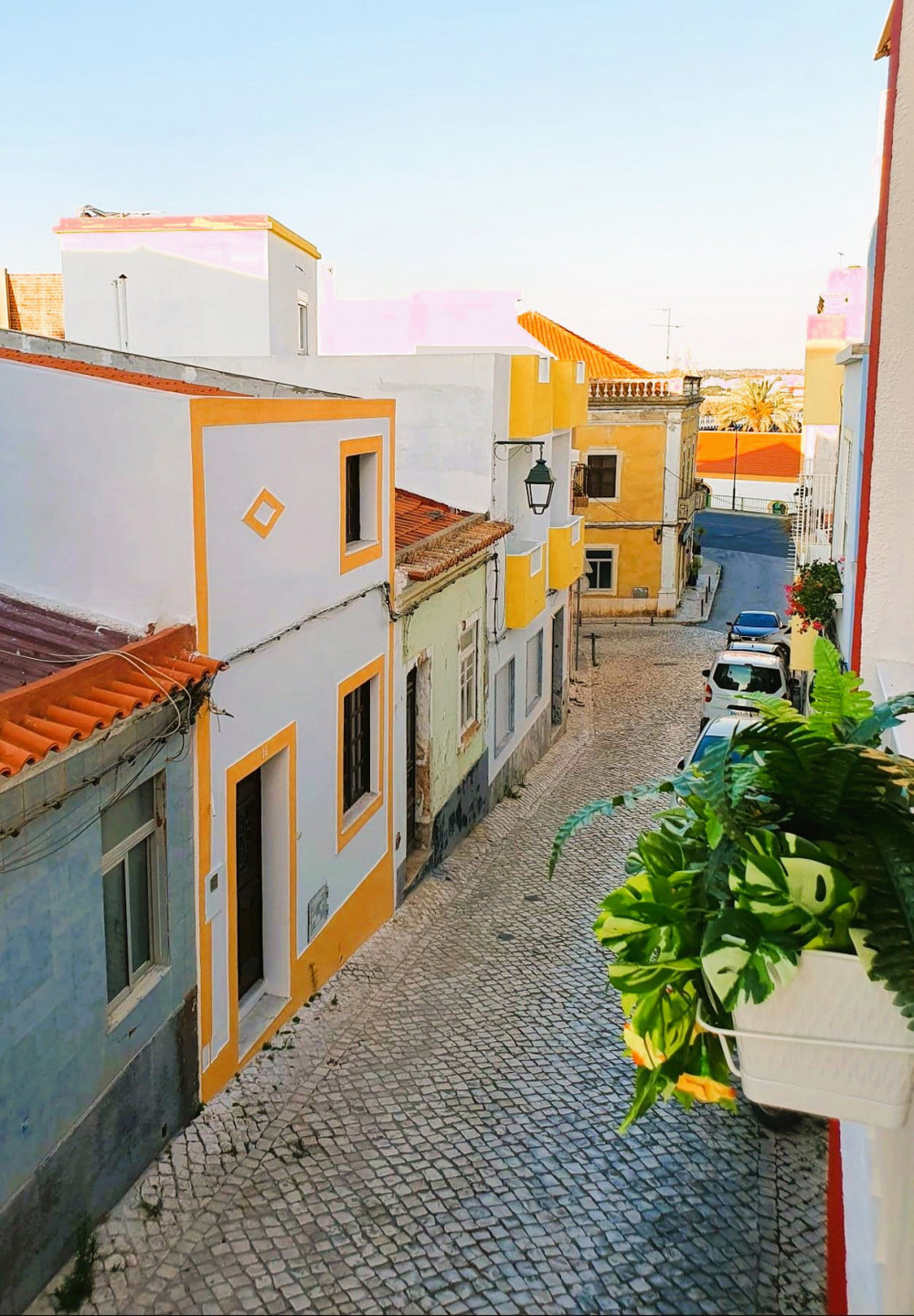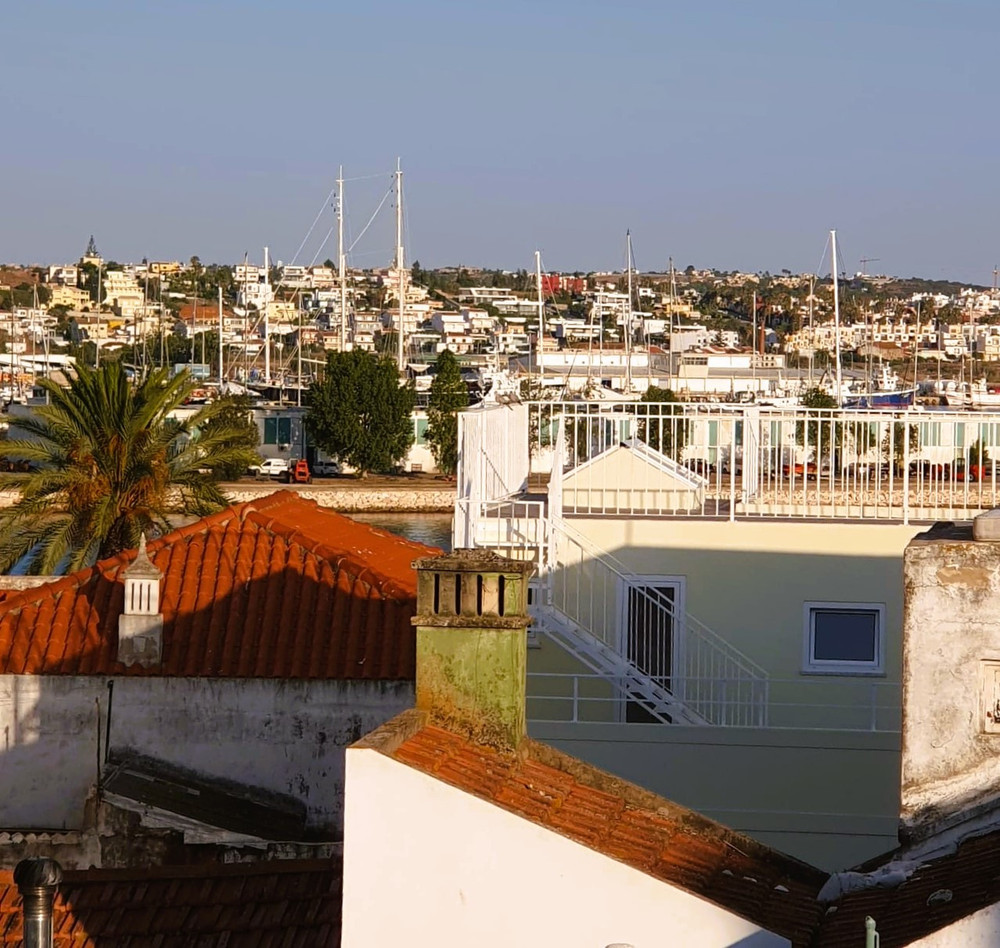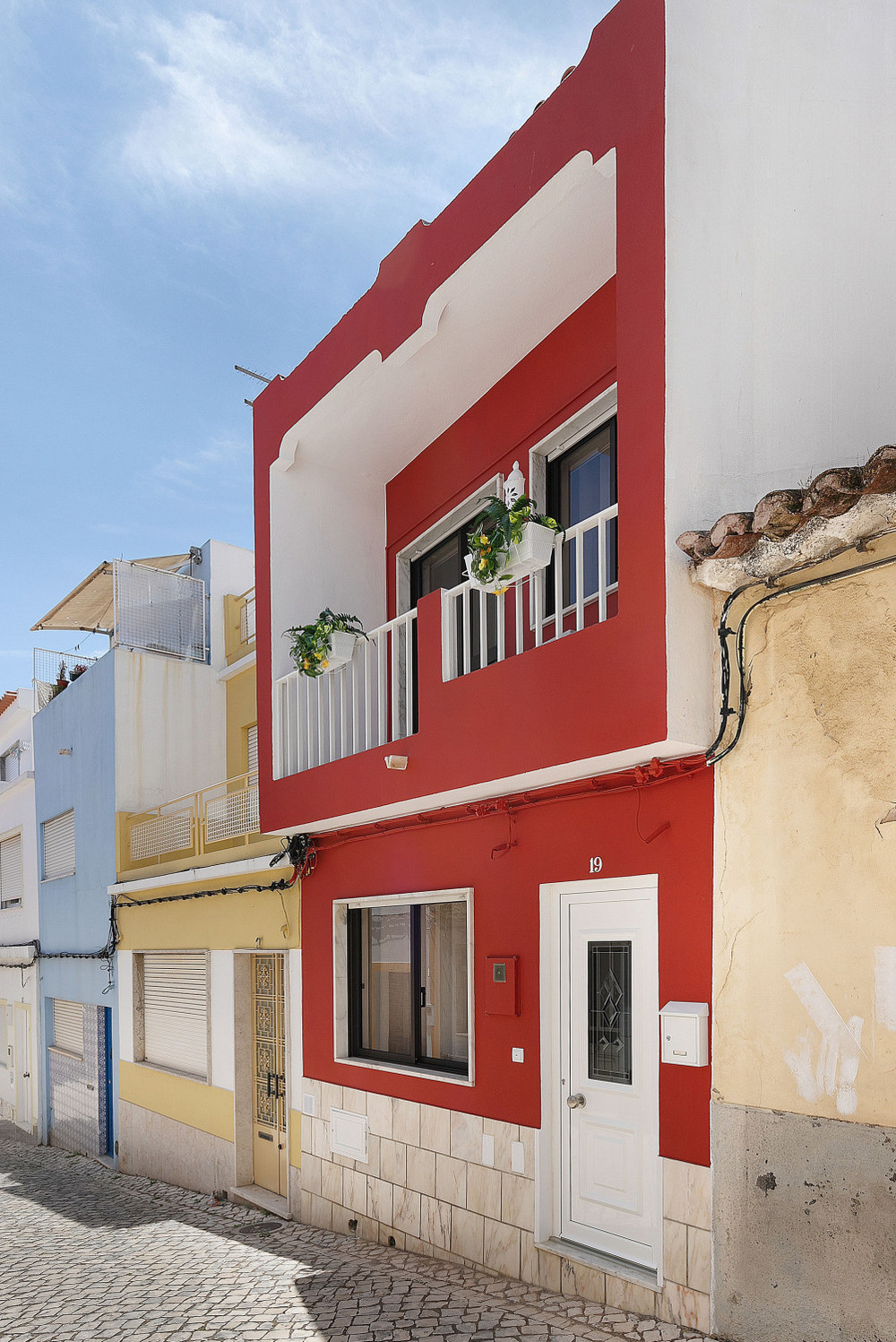 Distinctive Charm Near the Riverfront
€1,800/month
Property by
Hassle-free accommodation assistance with Citizen Remote
Book a Call
This fully furnished and equipped 2-bedroom, 2-bathroom home of ~115 m2 / 1230 square feet (including 2 terraces, a courtyard and a veranda!) is a delightful and eclectic mix of modern styling and authentic Portuguese elements.

THE AREA: Located in Portugal's western Algarve, in Portimão's vibrant and historic Zona Ribeirinha neighbourhood, less than 2 minutes' walk from the expansive cobblestoned riverfront promenade of the Rio Arade, this 2-bedroom, 2-bathroom "moradia em banda" style home is conveniently located near iconic restaurants, cafés, banks, a pharmacy, and grocery stores in the home of some of Algarve's most famous beaches – Praia da Rocha, Praia dos Três Castelos, and the accessible Praia do Vau. Portimão is an outstanding place to vacation and live, as it has all the amenities of a small city and thriving beach destination year-round.

THE HOME: "Casa da Amizade" is optimally suited to 2-4 adult guests. (Max occupancy: 4). It boasts excellent MEO FiberGateway wifi throughout the three levels while providing plenty of space to separate the main living areas from the bedrooms and remote working space. Kitchen, dining and living room plus a full bathroom and courtyard comprise the ground floor. Two bedrooms separated by the broad marble staircase, along with another full bathroom featuring double sinks and a walk-in shower are situated on the first floor (aka second floor if you're from North America). The designated office space and laundry room are situated on the airy uppermost floor, adjacent to the south and north-facing terraces. The home feels bright and spacious with lots of natural light, and its layout allows for enjoyment of the various spaces at the same time if you want to find a spot to retreat.

Both bedrooms feature queen size (160cm x 200 cm) beds with comfortable mattress toppers, air conditioning/heating units, clothing storage as well as plenty of natural light, sliding windows and blackout blinds.

Outdoor relaxation spaces abound at Casa da Amizade! The two upper terraces, one facing north for afternoon shade and one facing south for sunny warmth and hammock time, enjoy views of the Rio Arade, the Ponte Velha, the Algarve mountains, and the Portimão Shipyard Marina with its graceful masts. The north-facing terrace includes an outdoor dining area and charcoal barbeque, nighttime mood lighting, and zero-gravity chairs to put you in full relaxation mode. The upper south-facing terrace off the laundry room is the place for hammock time or a peaceful swing in the suspension chair. This terrace also includes a clothesline for drying your beach towels, wetsuits, and regular laundry. On the middle floor, the veranda off the green bedroom is just a little extra something to make that room special. On the main floor, a patio door opens from the kitchen to a cozy open-air courtyard - a lovely, sheltered spot where you can savour your morning coffee or afternoon tea and a delicious pastry from one of the nearby pastelarias.

WHY PORTIMÃO IS A GREAT CHOICE: Portimão is a thriving destination year-round and has everything you need for a short, medium, or long-term stay. It is a perfect location for remote workers, those on sabbatical, sailors, golfers, retirees, families, and beach-lovers alike. With its easy walkability, public transit system, and train station, Portimão provides the connectedness needed for those travelling within Portimão and across Algarve without a vehicle. In addition, for those needing transit to or from Faro, the train from Portimão reaches Faro station in ~ 1.5 hours and private airport transfers are available.

Portimão is home to the Portimonense Futebol (Soccer) Club, a Yacht Club (Clube Naval) and sailing school, a cruise ship terminal, the Centro Hospitalar e Universitário do Algarve (a public hospital), cool co-working spaces, the University of Algarve Hotel and Tourism Management school, the PgO UCAM Post-Graduate school of Odontology/Advanced Dentistry, and several other smaller colleges. The city is also known for its motorsports autodrome (cars and motorcycles), marina, concerts, theatre, beach soccer and beach volleyball tournaments and the annual Sardine Festival.

SUSTAINABILITY: At Casa da Amizade, we care about environmental sustainability and are proud to offer fossil-fuel-free cooking and heating systems, a recycling station, dual-flush toilets, LED lighting, and water-conserving appliances. All appliances and heating/cooling systems are electric and run on standard European 220V.

OPTIONAL CLEANING AND LINEN SERVICE: Weekly house cleaning and bed linen changes can be arranged.

Please note - the marble staircase is a beautiful feature of the home but may not be suitable for those with serious mobility challenges.


HOME DETAILS AND AMENITIES:

River views of the Rio Arade, Ponte Velha, Ponte Nova, Ferragudo, and the Algarve mountains from the uppermost floor terraces

Year-round liveability with air conditioning / heating units permanently installed on the ground floor and in both bedrooms

Wifi throughout the home: MEO FiberGateway installed with 500 Mbps download speed

Smart TV with MEO Full HD DVR, Chromecast, and more than 150 TV and movie channels, including programming in several languages.

Fully equipped kitchen: dishwasher, microwave, fridge/freezer, cooktop, oven, coffee machine, French press, coffee percolator, electric kettle, toaster, juicer, handheld blender, and a host of utensils, pots, pans and frypans for cooking and baking

Office space: a dedicated desk and office chair for those who want to work remotely. The home is equipped with MEO FiberGateway that reaches all levels of the home. The remote work space is located on the uppermost floor in a bright location adjacent to the north and south terraces, where one can enjoy the seabreeze, abundant sunshine, and a quick work break in the hammock😉

Outdoor Relaxation: The home boasts 2 terraces, a courtyard, and a veranda so you'll have multiple spots for relaxation in the sun or shade. Enjoy the hammock, swinging chair, zero-gravity chairs, charcoal BBQ, or a beverage at the table for 4 with a view of the river.

Rest: queen-size beds (160 cm x 200 cm) in both bedrooms, one with a 5 cm memory foam topper and the other with a 14 cm semi-firm foam topper for your choice of a soft or firm sleep surface. Both bedrooms are located upstairs, away from the main floor living area. The Green Room has a more tranquil feel and plush sleep surface. It is complete with a 6-drawer dresser, multiple hooks for hanging clothes or towels, and has a patio door that opens to a small veranda at the front of the home. The Yellow Room has a more upbeat boho vibe and is fitted with a large window opening into the courtyard, a built-in closet with drawers and plenty of room for hanging clothes and storing suitcases. Although the home benefits from excellent air circulation, both bedrooms are outfitted with heat exchange units for air-conditioning in summer and heating in winter. Duvets are also supplied to keep you cozy and warm during the fall and winter season. Both bedrooms are equipped with blackout privacy shutters.

Laundry facilities: We are pleased to offer weekly linen service for towels and sheets. For day-to-day use, the full-size laundry room located on the uppermost floor is outfitted with a washing machine, iron and ironing board and drying rack, and opens onto the south-facing terrace where there is an outdoor clothesline suitable for hanging bedsheets, beach towels, wetsuits, and all regular laundry.

Parking: Free parking on our street (where it's wide enough!), most other side streets, or in the Co-Create parking lot at Largo de São José (3-minute walk). Parking is also available across the street from the Farmácia Do Rio and along Rua Serpa Pinto (~2-3 min walk; free on weekends and public holidays during the fall/winter but PAID parking most of the time – check the signs carefully!)

Recycling: We recycle! In the courtyard off the kitchen you will find bins for plastic, aluminum, paper and glass for later deposit at the public recycling/garbage depot, a 1-minute walk down the street

Security entrance door with triple deadbolt, keyless/contactless smart lock, and locks on windows and terrace doors in addition to the metal privacy blinds

NEARBY ATTRACTIONS AND AMENITIES:

Nearest Grocery Stores:
Pingo Doce Portimão Recomar – supermarket
Lidl Parchal – supermarket
Continente Portimão – supermarket and mall services
Local grocery: next to fishing supply store, across from the recycling depot on Largo F. Mauricio
Mercearia Bio – organic grocery, south down the river promenade behind the Capitania do Porto
Mercado Municipal de Portimão – well worth the visit for a wide variety of fresh fruit, vegetables, fish, meat and much more. Open Monday to Friday 0700-1400 and 1700-2000; Saturdays 0700-1400; Closed Sundays.

Major Telecommunications Providers:
MEO, Vodafone, Nos

Local Beaches:
Praia da Rocha – one of Algarve's most famous and lively beaches, Praia da Rocha is a broad expanse of sand stretching over 1 km in length, backed by a promenade and numerous beach restaurants. The beach is also home to a Sports Centre and many activities including beach volleyball and beach futebol tournaments and camps, surfing, kayaking, and basketball to name a few. Further back from the beach you will find Avenida Tomás Cabreira, a hub of shopping and nightlife, lined with hotels, restaurants, bars and small shops.

Praia dos Três Castelos – a strikingly beautiful beach backed by high sandstone cliffs and giant rock formations that stand like castles in the water. It is reached by stairs near the Miradouro dos Três Castelos or at various spots along Rua da Falésia. Depending on the tide, you can walk along the beach all the way from the Miradouro to Praia do Vau and experience the wonder of being inside one of the giant rock formations. Please do not ignore the "Perigo" signs or fences if you are walking atop the cliffs as tourists have made a very unpleasant end to their holiday by doing so.

Praia do Vau – an excellent family beach that is easily accessible for those who prefer not to climb stairs with their beach chairs and umbrellas. Parking is found near the western end of Estrada do Vau.

Praia da Marina de Portimão – a small beach where the Rio Arade meets the ocean, close to multiple watersport rental kiosks and marina shops and restaurants.

Restaurants nearby:
Avô Casimiro – one of Portimão's top-rated restaurants, specializing in Portuguese "petiscos" (small tapas-like dishes) - just a 2-minute walk away. Go early or make a reservation!
Peixarada – Fresh charcoal-grilled fish and seafood, just a 2-minute walk away
NoSoloItália – pizza and gelato on the river promenade at Praça Manuel Teixeira Gomes
Casa Inglesa - at Praça Manuel Teixeira Gomes for more than 100 years – great for lounging at the plaza with a coffee and pastry, or a inexpensive glass of Vinho Verde on a hot day
Faina – wine bar and restaurant with a nice patio alongside the river, by the Museum and Marina
Peer Restaurant – upper floor restaurant at the Clube Naval de Portimão – enjoy very pleasant dining and a beautiful view over the water at the south end of the river promenade. Try the cataplana!
Caniço – Mediterranean cuisine by the sea
NoSoloÁgua – Live music nights and great atmosphere by the Marina beach, highly rated
Masala House – Indian cuisine
Kame Sushi Bar – Japanese cuisine
Club Nau (Ferragudo) – live music nights and cozy atmosphere. Closed Tuesdays.
Vista – Portimão's Michelin Star

Boat trips:
Benagil Cave tours – numerous kiosks located along the Passeio Ribeirinho near the Casa Inglesa café offer trips to the famous caves

Santa Bernarda Pirate Ship coastal /caves tour – aboard the two-masted wood-clad caravelle

Dolphin Watching Tours – several outfits offer dolphin watching tours from their kiosks or shops near the Marina Beach.

Yacht, catamaran and power boat charters, kayak tours, paddle board tours and fishing charters are also available. There are many operators in the Portimão area so please consult the internet for one that suits your interests and preferences.

Activities and Fun nearby:
From golf and watersports to theatre and car racing, Portimão has it all!

A range of local activities can be found at https://www.vivaportimao.pt and https://www.cm-portimao.pt

Teatro Municipal event schedule: https://www.teatromunicipaldeportimao.pt/programacao

Algarve International Autodrome events: https://autodromodoalgarve.com/

The area around Portimão has too many activities to mention. Visit https://www.visitalgarve.pt/ and check the interactive map for golf courses, waterparks, watersports adventure, hiking trails, vineyard and wine-tasting tours and much, much more!


PROXIMITY TO ALL THE CONVENIENCES:
Food:
Pingo Doce supermarket – 10 min walk / 7 min drive
Local grocery store – 1 min walk
Praça Manuel Teixeira Gomes (multiple cafés, restaurants, ice cream shops, banks) – 5 min walk / 1 min drive
Antiga Chaminé/Largo da Barca area (multiple restaurants) – 2 min walk
The Food Co. – international supermarket with British and North American products – at the Portimão Retail Centre - 23 min walk / 8 min drive

Pharmacy:
Farmácia do Rio – 2 min walk / 1 min drive

Transit:
Portimão Train Station – 11 min walk / 4 min drive
Portimão Bus Stations – 20 min walk / 11 min drive

Mail Services:
CTT Post Office – 5 min walk / 1 min drive

Banks:
Millenium BCP, Santander, Novobanco, Banco CTT, Banco BPI, Caixa Geral de Depósitos, ABANCA – 5 min walk/ 5 min drive

Beaches:
Praia da Rocha – 37 min walk / 11 minute bicycle ride / 24-30 min public transit / 12 min drive
Praia dos Três Castelos - 45 min walk / 24-30 min public transit / 11 min drive
Praia do Vau (accessible beach) - 52 min walk / 23-27 min public transit / 12 min drive

Shopping:
Aqua Portimão shopping centre (74 major retailers) – 18 min walk/ 13 min transit / 8 min drive
Rua do Comércio pedestrian shopping street: 5 min walk
Portimão Retail Centre – outlet mall - 23 min walk/ 8 min drive

Soccer/Futebol:
Municipal Stadium (Portimonense F.C.) – 13 min walk / 5 min drive

Music and Theatre:
Teatro Municipal – 5 min walk

Boating:
Portimão Cruise Ship Terminal – 22 min walk / 10 min drive
Nearest local boat dock: Dock Bartolomeu Dias – 5 min walk
Portimão Shipyard Marina – 9 min walk / 2 min drive from Rua Serpa Pinto
Benagil Cave Trip kiosks – 5 min walk / 4 min drive

*************************************************************************************
Detailed list of the home's equipment and amenities:

GROUND FLOOR:
Living room: 43" LG smart TV with Chromecast and YouTube, sofa, end tables, coat rack, fire extinguisher
Dining Room: Dining table and 4 chairs
Kitchen: fridge/freezer, stove, oven, dishwasher, microwave, electric kettle, Dolce Gusto coffee machine, French press, coffee percolator, juicer, toaster, electric hand blender, grater, garlic press, corkscrew, pizza cutter, peeler, BBQ lighter, oven mitts, apron, strainer, mortar & pestle, mixing spoons, ladle, measuring cups, measuring spoons, glass storage containers, funnel set, whisk, cake pans, ice cube trays, mixing/salad bowls, frypans, pots, cutting boards, sharp knives, plates, cups, mugs, utensils, wine glasses, dish towels, scissors, fire blanket
Bathroom: 3-piece bathroom, first aid kit, broom, dustpan
Courtyard: bistro table for 2, beach supplies (in cabinet)

1ST FLOOR:
Bedrooms are equipped with queen-size beds (160 cm x 200 cm), bed linens, pillows, duvets (fall/winter), bath towels, clothes storage (drawers and hanging storage), lamps
Bathroom: 3-piece with double vanity, hairdryer
Wifi router
Fire extinguisher

2ND FLOOR:
Desk and office chair
Laundry Room: washing machine, drying rack, clothesline (on south terrace), ironing board, iron, vacuum cleaner, mop and pail, some laundry and cleaning supplies, hammock (if stored)
North & South Terraces: Hammock, suspension chair, zero-gravity chairs, table & chairs for 4, charcoal barbeque

HOUSE RULES:

Maximum occupancy: 4 people. All guests (children included) must provide their government-issued identification information for check-in, in compliance with Portuguese legislation and AIMA/SEF (Foreigner and Borders Service) requirements.

No parties or hosting of events. No pets. No smoking anywhere on the premises including the courtyard, terraces and balcony.

Check-out time: Normally 11:00 AM, but we will arrange a time to meet you personally on check-out day, in order to carry out Flatio's check out process together.

Keep the home clean and leave it as you found it. This is our holiday home too and we are pleased to share it with you! We try to keep the home clean and well-maintained so that you feel welcome, and we trust you as our guests to likewise treat the home with care. Please close/lock windows and doors, take out your garbage and recycling. You can deposit the garbage and recycling 1 minute away at the community collection site, where our street meets Rua Serpa Pinto (the main road along the river).

Neighbourhood: We think it is important to be good neighbours. Please respect our neighbours and do not willfully cause any disturbance or excessive noise that could interfere with their lives or the peacefulness of the area. Ensure that your vehicle is parked in areas that do not block traffic or access to any neighbour's home or garage.

Parental Supervision of Children: Adults are responsible to supervise their children at all times while on the premises.
Amenities
Rules
Cancelation policy
Neighborly (14-days)
You can cancel the reservation for free within 14 days before moving.
Backup accommodation
If you cancel your reservation 14 days or more before the move-in date, you'll get a refund of the entire first rent.If you cancel your reservation up to 7 days before the move-in date, you'll get a refund of half of the first rent.If you cancel your reservation less than 6 days before the move-in date, you won't get a refund of the first rent.
Frequently asked questions for this offer
What happens after I make a reservation?
Once you send a reservation request, the landlord is notified that you are interested in their offer. From that moment, they have 24 hours to approve or reject your reservation.
Landlords are mainly interested in the profile of their tenant. Do not forget to fill in all necessary information, add your profile picture, or even make a short video about yourself. Doing that will make you more attractive for the owner and your reservation will more likely get approved.
What is the standard furnishing of flats?
All the apartments on offer on Flatio must meet certain standards. We require fully furnished and equipped ones, dishes, cutlery and internet connection included.
What is a medium-term rent?
The duration of a medium-term rent is usually 1 to 12 months. Most of the landlords offer long-term rents or rents for just a few days, therefore getting a medium-term rent without Flatio is not that easy.
Can I go through the contract before I make a reservation of the housing?
You can take a look at the contract in advance and online with every offer. After you sign it, you will find it in the application My Housing.
While arranging a contract on Flatio, you do not have to worry that it could be disadvantageous for you. Our contracts are made so that we avoid all problems! All of them are the same, used by all the landlords on Flatio.
Can I see my chosen accommodation in person before I sign the lease agreement?
Your time is precious. That's why we've added a virtual tour option to our platform so you can see some of the rentals listed on Flatio from the comfort of your own home.
If a virtual tour isn't available for the accommodation you've chosen, you can contact the landlord and ask them if they're willing to give you a personal tour of the rental unit.
If you move in and find that the rented accommodation doesn't match the information on Flatio at the time the reservation request was sent to the landlord, you can withdraw from the lease agreement under certain circumstances explained in this article in our help center.
Also, under our "secure move-in" policy, we'll assist you with moving to an alternative accommodation if you report within a certain period of time that the rental unit doesn't match the ad and the landlord doesn't fix the problem immediately. You can read the details in our help center.
How can I pay?
On Flatio, you have a variety of payment methods to choose from. You can use your card, payment gateway or bank transfer. Just pick the one which suits you the most.
How can I cancel my reservation?
How you can cancel a reservation varies depending on what stage the reservation is in.
Is your reservation request still waiting for landlord approval? Then you can simply cancel it directly from your My Housing web app!
However, suppose the owner has already approved your reservation request, and you are no longer interested in it. In that case, you can still cancel the reservation before you sign the lease agreement. Just consider that you should do this only in essential cases. Because when the landlord accepts your reservation, their property is stopped being advertised, and they can lose the chance to rent their property to someone else.
Do you have an approved reservation and also a valid agreement? In order to cancel your reservation, contact Flatio customer support well in advance of your contract beginning (the specific time and amount of refund depends on the type of cancelation policy).